Time is precious, and we've never been busier. Host Matt Fizell, CFP® talked to Adam Cmejla, CFP®, about workflows and processes in our latest YAFPNW episode. They discussed the benefits of integrating processes, challenges he faces in his work, and Adam's advice for new planners interested in that area of the profession.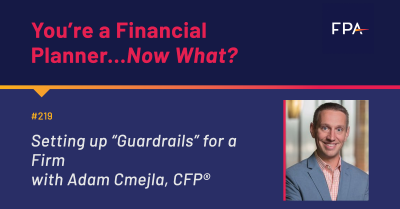 Adam Cmejla, CFP®, is the president of Integrated Planning & Wealth Management, a firm dedicated to helping optometrists. He's also the founder and president of Integrated Consulting & Advisory Solutions, a firm that helps other firms with their workflows and processes. 
In our latest episode, Adam talked to Matt about the benefits of processes for both firms and clients, what inspired him to start his businesses, signs that you need to reevaluate your firm, and much more.
How setting up "guardrails" benefits your firm
When Adam got into the planning profession, he realized that the general atmosphere was very product-focused. The first goal was to prospect: find a client. The second goal? Serve the client.
"That was kind of the A-to-Z, but there wasn't really a B-to-Y," Adam said. "I wasn't a CFP, I didn't have the blueprint of the financial planning process."
That, along with a personal passion for finance, is what inspired Adam to found Integrated Consulting & Advisory Solutions. As a consultant, Adam helps other financial advisors create workflow solutions and processes to serve their firms. He knew that this gap in knowledge, this lack of structure, would prevent a firm from running at its fullest potential. 
"If you don't have guardrails around what that process looks like, and you don't have ways in which you're able to systematically show up in your clients' lives...what you're always doing is wondering if you're doing enough, said Adam. "You're wondering…should I have done this? Should we have done that? Did we remember to do this for a client"?
Processes are also essential for communicating with new and established clients. Adam pointed out that most clients are likely not familiar with how financial planning works. They have an idea of what they want solved, but they don't know what financial planning actually looks like, or what the end result is. 
Having a process in place — a service model — defines financial planning for your clients. It sets and manages their expectations for the relationship. It also acts as an internal guide for the firm. Everyone on the team understands what they can do for their clients.
Critical thinking and being open to improvement
It's not always easy to introduce change into a firm. One of the biggest benefits to his workflows, Adam explained, is that they're general enough to work for the process at hand, but also flexible enough so that an advisor can adapt them as they see fit. But in order for it to work as well as it can, you need to have everyone on board.
"The workflows will always be as strong as the weakest link in the organization," said Adam. "The adviser has to be open to that idea of asking, 'why are we doing things this way?' And is there a better way that we can do this to uplevel the client experience?'"
Even if you're starting out early in your career and you're not an advisor yet, it benefits you and your company to be open-minded. Being able to critically think through a problem and articulate your idea for improvement is a valuable skill that sets you apart from other young professionals, Adam says.
"You don't have to have that experience to be able to bring massive value internally to your firm," said Adam. "Bring me problems, but bring me at least what you're thinking of as a solution."
Being proactive instead of reactive
Processes give a firm internal structure. They also help clients understand financial planning so they can manage their expectations. But there's another benefit to having processes: having more time and flexibility. 
With processes in place, your work is proactive rather than reactive. Instead of scrambling to figure out how to serve your clients, you can follow the workflow and just start doing it. After all, an advisory firm is no different than a steel mill, Adam says.
"Both businesses do the exact same thing," said Adam. "They bring in a raw product in one door. They take it through a or multiple sets of processes, and they end with a finished product."
Can you imagine a steel mill functioning properly without workflows? Not at all. Tune in to the full episode to hear more of Adam's thoughts
What You'll Learn:
How Adam entered the profession
An analogy for financial planning firms
How processes benefit the firm and clients
What inspired Adam's passion for processes
Common pain points when working with advisors
Always look for opportunities to improve
Questions young planners can ask during interviews
Challenges with processes when you work from home
Signs that you need to revisit processes in your firm
Advice for new planners interested in workflows and operations
Show Notes:
In this episode of YAFPNW, we discuss: