Dr. Mary Bell Carlson, CFP® and "full-time mom, part-time professor," as she calls it, joined Hannah in our latest YAFPNW episode to talk about the wide range of career paths that fall under financial planning. Tune in to the full episode to see what Mary had to say.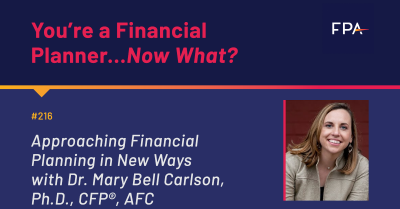 What is a "financial planner" really? Is a financial counselor the same thing as a financial planner? Can you make your own unique career based on your education, experiences, or training?
Dr. Mary Bell Carlson, CFP® and "full-time mom, part-time professor," as she calls it, joined Hannah in our latest YAFPNW episode to talk about the wide range of career paths that fall under financial planning. Tune in to the full episode to see what Mary had to say.
Not your typical financial planner
After her education at Texas Tech University, Mary spent time knocking on doors at the state capitol in Austin, looking for work that would change the world. She worked as a lobbyist for FPA for a few years before sitting for the CFP and passing it, adding to her roster of credentials, along with the AFC. 
Then, she read an email that talked about teaching the military personal finance in Europe. After a whirlwind interview process, Mary spent the next three years flying around the world teaching personal finance to military service providers. 
"Man, did I get an education," said Mary. "I call that my graduate degree in military science...it gave me the opportunity to give back and really fulfill that passion that I have of financial education and teaching others."
Following her stint traveling around the world, Mary transitioned into a contract at Fort Riley as a financial counselor, helping families who had lost a loved one in service. 
"These families were given this huge lump sum of money, which is more money than many of them had ever or we'll ever see in their lifetimes," said Mary. "And yet, at the same time, there was so much emotion that came with that money." 
A huge part of this job was understanding the people she was helping, connecting with them on a deeper level, and gaining their trust. We don't have to have the exact same experiences as someone else in order to help them, Mary explained, but they should know that you have their back when times get tough. 
How Chief Financial Mom came to be
Mary may be best known for her blog, Chief Financial Mom. The blog was born when Mary faced a crossroads in her life. When she got married and wanted to have kids, she knew she wanted to be able to focus on her family, but she also wanted to share her financial knowledge with the rest of the world. So Mary forged her own path as an entrepreneur, creating a personal finance blog that spoke to other moms like her.
"There's not a lot of great education or training or knowledge that necessarily goes along with personal finance. And even speaking to lots of my friends, they often would come to me on the side or not in a group setting because they were embarrassed or maybe ashamed," said Mary. "Because most of these women have bachelor's degrees or more, and yet, they just didn't know about personal finance."
That's how Chief Financial Mom became an educational platform, a place for mothers to go to find unbiased, helpful financial information. Though Chief Financial Mom is still in its very early stages — only less than a year old — Mary plans to grow it further as a social media platform, and maybe even a podcast down the road.
Diversity in the financial planning approach
Is Mary's work technically considered "financial planning?" In a traditional sense, maybe not; she doesn't take on clients. You might call it financial counseling instead. But that's not the point, Mary explained. If you think of "financial planning" as an umbrella term, there are so many unique pathways to the profession that new planners can take. You might even use some of these skills from different pathways now, without realizing it.
"A client isn't the same for 30 years; they need various approaches and techniques to help them along the way as well," said Mary. "Sometimes we call ourselves one thing, but we might be using skills or experiences from another subset."
Even though there's millions of potential clients out there, plenty to go around, the profession can feel very competitive. We financial planners (or financial counselors, or financial coaches, or financial therapists) feel the need to claim a territory, but that's not necessary. Especially if we forge our own pathways and put our own unique spin on what's considered "financial planning."
"We're talking about hundreds of millions of people that we can help," said Mary. "There isn't a one-stop shop solution, there's going to have to be many different models that allow people to work within that realm."
What You'll Learn:
How Mary created Chief Financial Mom
The benefits of having CFP and AFC designations
Why cash flow is important for everyone
Taking financial planning to the masses
Different approaches under the umbrella of financial planning
The importance of diversity in the profession
The "seasons" of Mary's career
Mary's definition of success
Advice for new planners
Show Notes:
In this episode of YAFPNW, Hannah Moore, CFP®, and Mary Bell Carlson, CFP®, discuss:
Want to keep up with Mary on social media? Follow her blog, Chief Financial Mom. You can also follow on LinkedIn, on Twitter at @ChiefFinanceMom, and on Instagram at @chieffinancialmom.