Tyler Aubrey, CFP®, a financial planner at Define Financial in San Diego, had an interesting career path that led him to the profession. In our newest YAFPNW episode, Tyler and Matt discuss his early work with a large government contractor, his first financial planning role, and his advice for new planners.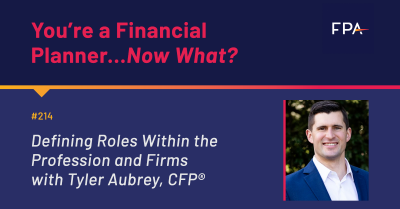 From the shipbuilding industry to financial planning
After graduating college with a degree in finance, a minor in business, and a minor in accounting, Tyler searched for jobs that could put his skills and education to use. He began as a cost analyst at General Dynamics in San Diego, which seemed like exactly what he wanted. But when Tyler looked at the career path ahead of him at the company, he "didn't see a light at the end of the tunnel there. And I wasn't that passionate about it."
After speaking to his Define colleague, Taylor, he realized that to start from square one in the financial planning profession, he needed his CFP®. Soon after getting certified, Tyler began working at a firm for a business owner who was looking for someone to take over their book of business.
"I kind of found this diamond in the rough," said Tyler. "I worked for that office for about three years before transitioning to Define." 
Be clear about your expectations
The original plan was to take over the business when the owner retired or transitioned out of it. During his time there, Tyler brought in technology, improved scalability, started a website, and did much more to bring it up to speed. However, it became clear that the owner wasn't quite ready to transition, and it was hard to nail down when it might actually happen. 
That led Tyler to look elsewhere, but not before he learned some important lessons. Even if you can't get a formal contract in place yet, an informal agreement can clear things up for both parties. It sets expectations for both business owners and financial planners at a firm.
"It's just a matter of getting both parties to put everything out on the table. And it's in writing," said Tyler. "Everyone's had a chance to put in their two cents and understand where each party's coming from." 
Don't be afraid to ask questions
Transparency is key in any type of role in this profession. Financial planning is a very diverse and intricate role that requires a lot of different tasks, especially in a smaller firm. 
"Being clear on what it is you like to do, and what their needs are, is so highly valuable," said Tyler. "I can't stress it enough."
A willingness to learn and ask questions is important, too. If you want to be part of the conversation at a firm and have your voice heard, you have to understand your business owner's perspective. What are your business owner's strengths and values? What do they prefer to focus on at the firm? And how can you, as a financial planner, strengthen the firm? What are you bringing to the table?
If you're ever unsure of something, Tyler said, don't be afraid to ask questions. Or, as he amended, "be confident in the way you ask questions." Other people in the profession are a wealth of information. Always be receptive to learning from others.
"Some people are gonna blow you off and that's okay. You'll find people who will take the time and really value building that relationship and doing something good for others," said Tyler. "And those are the people you want to surround yourself with."
Tune in to the full episode to learn more about Tyler's career and tips for new planners
What You'll Learn:
How Tyler discovered his passion for financial planning
Stepping into the profession
Transitioning into Define Financial
Being clear about your role at a firm
Becoming an indispensable part of a business
Having important conversations with business owners
The importance of transparency
Tyler's advice for new planners
Show Notes:
In this episode of YAFPNW, Matt Fizell, CFP®, and Tyler Aubrey, CFP®, discuss:
His work at Define Financial
Finding a clear role within a firm
Important conversations to have with business owners
Advice for new planners
Want to keep up with Tyler on social media? Follow him on LinkedIn and on Twitter at @TylerAubreyCFP.