How can we build trust, raise the credibility for our profession, and reel in potential new clients? By connecting with our audience through the media. Check out our latest episode of YAFPNW, where we talk with James "Jim" Pavia about telling our story and offering our expertise to the media.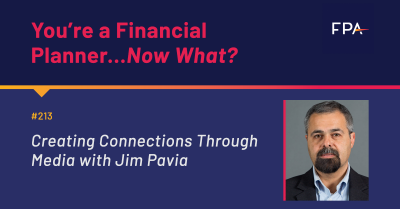 As financial planners, we know that our profession is important. "Money makes the world go 'round," as the saying goes. However, we have a way to go in building trust in our future clients, and people in general. We can speed that along by building a connection with our audience through the media. 
In our latest YAFPNW episode, James "Jim" Pavia, Money Editor for CNBC and professional journalist, discusses the do's and don'ts of working with local media, knowing your strengths and weaknesses, using your personality on social media, and more. We are super excited that Jim came on the show to talk to Alexandria, so tune into the full episode to hear his insights!
How Jim's upbringing influenced his career path
It's no surprise that Jim entered the financial advisor space. His father was a banker and a CPA, and he grew up in a household that talked about money. His mother and father had a very clear view of money, and were never in debt.
"My father's attitude was, 'if you can't afford it, you don't buy it.' And I've taken that with me through my life," said Jim. "So being around it, and always surrounded by that kind of mindset...it was like second nature to me."
That may explain why, after having a very clear vision of becoming a journalist when he entered college, Jim got into business journalism after a stint as a sports reporter. Part of it is due to his upbringing, but Jim was always eager to work in business journalism from a finance angle. Money matters, and it impacts everybody.
Now, Jim has been the Money Editor for CNBC for a little over seven years. Jim had lots of wisdom and advice for new planners looking to break into financial media as he did.
Shifting the consumer perception of the profession
Jim and Alex discussed the consumer perception of the financial advisor community, and how it, unfortunately, isn't trustworthy in the eyes of the people. We have to convince our audiences and potential clients that news stories of people stealing investors' money are not the norm. This is a profession where "99% of the people are good people," as Jim put it.
How can we start changing the consumer perception? By telling our own stories through media. One way to do it is to become an expert in your community. Find a community newspaper, a local radio station or TV station, and offer yourself up as an expert. That's how you raise the credibility of the profession as well as your own. Eventually, you'll win people over. And the clients will start trickling in.
If you take this route, play to your strengths and understand your weaknesses. Do you freeze up in front of a camera? Try radio instead. Do you have great writing skills? Try writing guest columns for a local paper. Whichever you choose, offer something you know you can do.
"If you're going to commit to it, you better show up. If you say you're going to write an op ed, you better be ready to write it," said Jim. "Don't put yourself in a position where you can't deliver. Because that just doesn't help you; it doesn't help anybody." 
Using your personality on social media
You can also tell your story and reach clients through social media. Whether you're using Twitter (the big platform for financial advisors), LinkedIn, Instagram, Facebook, TikTok, or a blog, you should combine your knowledge base with entertainment. That's how you'll connect with your audience.
Jim mentioned people in the profession doing just that: building up their audience with their personality. By sharing bits of their personal life. By talking about their hobbies. By having opinions. When you do that, you endear yourself to people. They'll want to work with you and hear what you have to say.
"People get to know who they are, and they may or may not become clients, but the bottom line is, they're creating this connection with the consumers that wasn't there before," said Jim
What You'll Learn:
How Jim entered the profession
The consumer perception of planners and advisors
Using the media to change perceptions
How the CNBC Digital Financial Advisor Council works
Playing to your strengths (and knowing your weaknesses)
Building relationships with local media
Know your expertise and niche
What to avoid when working with media
Combining knowledge and entertainment on social media
Show Notes:
In this episode of YAFPNW, Matt Fizell, CFP®, and Caleb Silver, discuss:
Want to keep up with Jim on social media? Follow him on LinkedIn and on Twitter at @jimpavia.