If you've been wondering about the different career paths within the profession, or how to break into the financial media career path as a new planner, this guest has so much to offer you.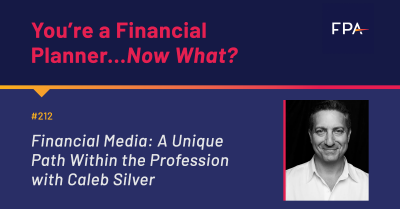 If you've been wondering about the different career paths within the profession, or how to break into the financial media career path as a new planner, this guest has so much to offer you.
Caleb Silver, Editor in Chief of Investopedia, has had an impressive career working with media outlets and news organizations. In this episode, he spoke to Matt about finding your voice on social media, publishing good content that speaks to readers, the value of expertise, and much more.
From pushing content to pulling content
Caleb began his career as a wildlife documentary producer, so moving to the world of investing and money was a "pretty big shift," as he put it. But the career shift was in line with his master's in journalism, as well as the internet boom in the late 90s. With an internship at Bloomberg, Caleb began documenting the growth of the internet, working in business journalism, and finally landing at Investopedia, where he's been the Editor in Chief for four years.
Since the start of his career, content has changed. Caleb's work with mediums like CNN and Bloomberg was a totally different mentality, a "pushing content" mentality. At Investopedia, much of their web traffic comes through search. 
"We're pulling readers in because they're finding us through Google or Bing," said Caleb. "So I went from pushing content to pulling content on the digital side."
With over 23 million users on a monthly basis, how does Investopedia remain a top source for financial information? By constantly improving their content. By remaining a reliable source for their readers.
"We spend a great deal of money and effort every day, every week, every year improving that content to make it better for our readers," said Caleb. "The better that content is, and the more trustworthy it is...the easier it is for us to continue to grow our audience."
It's a model that new financial planners interested in financial media can learn from.
Being an expert in your niche
Let's say you've wanted to start creating content as a financial planner for a while now. What's stopping you? There are plenty of reasons people are afraid to publish content in any profession: not knowing what to say, not knowing if your content is good enough, thinking your content is too simple or boring, or not knowing how to make your voice unique.
Caleb had lots of great advice for getting over those hurdles. First, remember that there are so many voices out there talking about the very same topics. What will set you apart is your unique perspective, your expertise. Be an expert in your field, and you'll begin to attract an audience.
"You have to be an expert because expertise is valuable," Caleb said. "Be passionate, build your audience...Put yourself out there as a particular expert on that subject matter."
Maybe you have your specialization or niche nailed down, but you're unsure of what topics to tackle first. Caleb suggests searching for topics on Google Trends. What do people care about? What do people want to know? It's a free and easy way to look up the basics of what you want to talk about. From there, you can find your angle.
Commit to your content
You know your niche, and you've gotten started on your basic topics. How do you know that your content is "good enough" to publish? 
If you're answering the main question in your blog or podcast or video, fulfilling the main purpose of your content well, it's most likely good to go. What's important is that you're committed to being as accurate as possible. You may have to update your content as the financial world changes. You have to be open to feedback and discussion from your readers. And you have to create content frequently to make it a habit and hone your skills.
As Caleb said, you don't need to try and do everything to stand apart from others. Find your own voice and commit to creating trustworthy, authoritative content. 
"You have other people that are grinding it out every day, but they found they found a specific voice and a specific topic that suits their expertise, and they don't try to do everything. They just try to do their expertise very well."
What You'll Learn:
From pushing content to pulling content
Finding a specific voice on social media
Dealing with writer's block
Publishing and revisiting ever-changing content
The beauty of simplicity
Start writing content within your niche
How to collaborate and contribute to the conversation
Expertise is valuable
Writing well and dealing with feedback
Making accessible, trustworthy content
Advice for new financial planners
Show Notes:
In this episode of YAFPNW, Matt Fizell, CFP®, and Caleb Silver, discuss:
Want to keep up with Caleb on social media? Follow him on LinkedIn and on Twitter at @calebsilver