What does it take to be a successful new planner? Finding your audience and connecting with them is part of it. Haley Rosa from PR firm Gregory FCA talks with Hannah about developing your personal brand and media strategy in our latest episode of YAFPNW.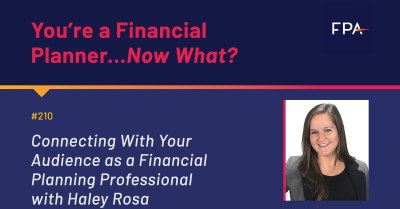 What does it take to find success as a new financial planner? A big part of it is understanding your own personal brand and what you can offer to your clients and your firm. To communicate your value well, you need to know how to differentiate yourself from the rest. 
That's what we talk about with Haley Rosa, account supervisor at PR firm Gregory FCA. In our latest episode of YAFPNW, Hannah and Haley discuss how new planners can work with reporters and media, leverage social media to raise their value, and find their niche in the profession.
Finding your audience and your niche
Haley has worked with clients in the financial services industry, helping them hone their communication, content, and social media strategies. One piece of advice she has for new planners: decide who you want to speak to. Know your audience, and find your niche or niches. That'll help you develop your messaging and figure out how to get your messages out. Are you going to start blogging? Podcasting? Using social media? Answering those questions gets easier when you understand your audience.
You are a new planner though, so what if you don't know who you want to serve yet?
"Start working for somebody else and just see the clients that you click with, that you just like to work with," said Haley. "Often that's a really good place to figure out...who you really want to serve."
To further define your audience, talk to your clients. Ask them where they get their news, which media figures or hashtags they're following, and what trends capture their interest. Figure out how they like to be communicated to. Not only are you defining your audience, you're connecting with your clients as people on a deeper level. It's a double win.
Putting your voice out there
Now that you've found your niche and your audience, how can you start sharing content? There are so many ways you can get your voice out there, from using social media to engaging with local and national news. It's worth it because it demonstrates your value as an individual planner and adds value to your firm building a practice.
If you're comfortable with social media and enjoy using it, leverage it to your advantage, Haley says. Show your personality with tweets or posts. Be topical and follow trends. Engage with other people, post comments, retweet, and be positive. You build up your personal brand and your network that way.
If you prefer other means of sharing content, try your hand at working with local and national news. Local news often covers local businesses and local events. Haley used the lottery as an example: not the most common topic you'd talk about with your clients, but there are lots of opportunities for planners to share their wisdom. You could serve as an expert source, speaking about taking the distribution or taking the lump sum, how you'd work that into your financial plan now, important tips you need to remember, and so on.
National news, in comparison, leans heavily on investing, paying off college debt, saving for a big expense like a house or college, and joining finances when you're in a relationship. Of course, the topics that local and national news cover can all get thrown out the window when something like COVID-19 happens.
Sharing content thoughtfully and appropriately
When something like the coronavirus is dominating the news, how can you communicate with your audience as a new planner? You can still share content, because there's still demand for commentary on what's happening, if not more so.
"People maybe are losing their source of income for an unknown amount of time, and people are a little bit wondering what's going to happen with the economy, their finances, and things like that," Haley pointed out. "There's a...need for sources to comment on what the future's going to hold, what people should be doing right now, and how to mitigate fears alongside all this stuff that's going on with the health fears too." 
Be mindful of what your audience needs. Now is not the time to overly promote your services, as Haley put it. But if you're being a valuable resource for people, going out of your way to help others, and answering questions that people need answered right now, you're doing the right thing.
Haley has lots of excellent advice to share in this episode of YAFPNW, so please tune in to the full episode
What You'll Learn:
How you can stand out as a new planner
Finding your niche
Building out client personas
Working with reporters and media relations 
Using social media to your advantage (and your firm's)
Engaging with local and national news
How COVID-19 is affecting communication
FCA's media training resource
Show Notes:
In this episode of YAFPNW, Hannah Moore, CFP®, and Haley Rosa, CFP®, discuss:
Follow Haley on LinkedIn and on Twitter at @HaleySRosa.