Are you better suited for working at a traditional firm...or an independent trust company? In our latest episode, Katie Seay, CFP® talked to Hannah about what makes The Trust Company unique, how her career has evolved, the importance of firm culture, and more.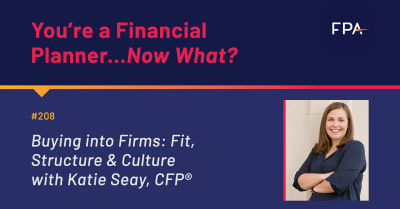 The financial planner's career path is often thought of as very linear: go to school, get your CFP certification, begin working for a firm and work your way up, or start your own. However, you can't plan for everything, and sometimes you're introduced to opportunities you don't expect. 
Like many of our other guests on YAFPNW, Katie Seay, CFP®, proves that life as a financial planner so often takes you in a different direction. In our latest episode, Katie talked to Hannah about what makes The Trust Company unique, how her career has evolved, the importance of firm culture, and more.
From Atlanta to Manhattan 
Katie went to the University of Georgia, initially as an international affairs major. When she came across family financial planning, her curiosity was piqued. She fell in love with the program and the work, and began working at Ayco in Atlanta, a Goldman Sachs company. After marrying her husband, Katie moved to Manhattan, Kansas, which was a big cultural change from Atlanta. However, it brought her to The Trust Company.
A trust company shares similarities with normal financial planning firms, but a few things set it apart. An independent trust company is not owned by a bank, and it's regulated a bit differently. Trust officers and financial planners are "hands-on as well as multigenerational," as Katie put it, working with grandparents, parents, and kids throughout their lifetimes. What you do at a trust is not that different from what you do at a firm.
"We really are part life coach...and part financial advisor," said Katie. "I don't think the role is necessarily unsimilar to what a lot of financial advisors are doing with their clients, our just happens to be a more structured role."
The Trust Company's unique structure
Part of what Katie loves about working at The Trust Company is how she's helped it grow. The Trust Company has been around since the early 90s, so when Katie joined in 2012, the business was already established. What wasn't established, however, was the financial planning services part of it all.
"I've really gotten to create my own business within a business, if that makes sense," said Katie. "And so it's been the best of both worlds for me. I've gotten to do my own thing, but have all the support and resources of an established business."
What has helped Katie grow her business within a business? Maybe part of it is the unique way The Trust Company is structured. The Trust Company has been majority employee-owned since its inception; every employee at The Trust Company has the opportunity to buy in. This allows everyone to have a seat at the table, and feel valued and proud of the company. Katie explained that The Trust Company's structure adds to conversations with clients, too.
"Being still a small business, a lot of times we get questions about, 'What are your plans? How do I know you're not just going to leave?' Things like that," said Katie. "And so it's a very easy conversation to say, 'Well, I'm an owner of the trust company and here's how that works and here's why that's important to me.'"
The importance of a firm's culture
Unique structure aside, Katie also believes strongly in The Trust Company's culture. When your firm's culture resonates with you, you believe in what you're doing. It's much easier to "sell" your services when  you have confidence in where you're working and the services that you're providing, Katie explained. 
That's why it's so important for new financial planners to find a firm that aligns with who you are. It's something Katie wishes she had paid more attention to when she entered the profession.
"These are people that you're spending most of your day with," said Katie."You've just gotta make sure that you really believe in your company because that's ultimately how you are going to be a successful professional."
What You'll Learn:
How Katie entered the profession
What a trust company does 
Helping evolve The Trust Company's services
How The Trust Company has grown
From financial planning to managing a team
The importance of a firm's culture
The Trust Company's ownership structure
Katie's advice for new planners
Show Notes:
In this episode of YAFPNW, Hannah Moore, CFP®, and Katie Seay, CFP®, discuss:
Want to keep up with Katie on social media? Follow Katie on LinkedIn.