In our latest episode of YAFPNW, Matt Fizell, CFP®, speaks to Diane Bourdo, CFP® and president of women-owned and women-operated wealth management firm The Humphreys Group. They talk about the perceptions of women and money in our society, the power of listening, gender disparity in the profession, and much more.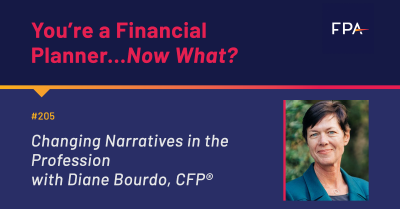 Diane Bourdo, CFP®, is the president of The Humphreys Group, a women-owned and women-operated wealth management firm. A proud feminist, as she states in her Twitter bio, Diane is passionate about the role of women in the profession, as well as the perception of women and money. 
In our latest episode of YAFPNW, Matt speaks to Diane about why those perceptions of women and money in our society need to change, the power of listening, how her firm serves clients, and much more.
The myth of women and money
"I've always considered myself a feminist even when I was a very young girl," said Diane. "And so being the head of a firm that has always had a focus on women has been a bit of a no-brainer."
Diane's firm has always targeted women who were recently divorced or inherited, "the whole women-in-transition before it was really a thing," as she put it. Why? Our culture's ideas of what it means to be good with money, successful with money, are tired and outdated. They're also not accurate, and they need to change.
"The idea of women not having confidence or knowledge about money doesn't sync up with my experience with women....generally I've found that women are much better at money than they've been led to believe," said Diane. "And of course it's also true that men are generally not as good at money than they have been led to believe. And so we're all suffering by this narrative. It's not good for anybody."  
How do we start reversing this stereotype? As financial planners, we can start by listening. 
Why listening is essential for success
It sounds obvious, but anyone in the profession knows that we've been trained to fix things. Find solutions. Focus on the technical side of things to make our clients happy. But there's more to being successful as a financial planner than the numbers.
The details, the calculations, the specialized stuff that financial planners do is still very important, Diane says. However, that expertise has to be balanced with empathy. You could have the best plan in the world for a client, but if you don't know their motivations, emotions, or even struggles behind their decisions, it's not going to work.
That's why listening to your clients from the get-go is essential. Asking broad, open-ended questions to get an idea of their relationship with money will give you valuable insight. Letting them talk without responding too much. That gives you the context of any problems you're trying to solve, and you'll be better equipped to help your client.
"We always want to have a solution," said Diane. "But at least at the beginning, the idea of listening without fixing is something to think about."
Cultivate change...starting with yourself
Matt says in this episode that the way the financial planning environment was built sometimes isn't the best fit for helping our clients. It's also ill-equipped to allow for gender equality. However, we can start changing the system by committing to that change, especially from the top-down.
"In some ways you want to throw the whole thing out and start anew. And that's not really practical or possible and it's not going to happen," said Diane. "It takes leadership from the top. It takes people to recognize that these things are important and they're actually good for everybody."
If you're a new financial planner, how can you be the best at your job? How can you be a champion of change for the profession? Diane says that curiosity, self-inquiry, is the most important thing to cultivate to find success. 
"We can't change anything in the outside world until we take a look at ourselves," said Diane. "I think one of the most important things to cultivate to be successful is curiosity, true curiosity, and to have a curious mindset. And you have to just keep practicing that curiosity." 
What You'll Learn:
Diane's passion about the narrative of women and money
The meaning of financial success
The "ideal client"
How Diane prepares new clients
Helping women gain confidence with money
Simple vs. simplistic
The importance of listening and being vulnerable
Solving problems vs presenting solutions
Working towards change from the top down
Diane's advice for new financial planners
Show Notes:
In this episode of YAFPNW, Matt Fizell, CFP®, and Diane Bourdo, CFP®, discuss: