Roger Ma is a CFP®, revenue intelligence analyst at Google, and author. He's also worked as an investment banker and dabbled in real estate. In our latest episode of YAFPNW, Hannah and Roger discuss blending personal finances and careers, the inspiration for his book, working multiple jobs, and more.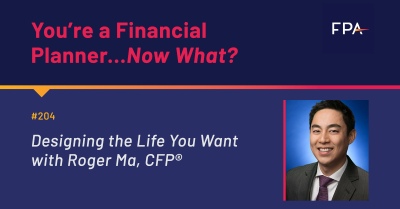 Roger Ma is a CFP®, revenue intelligence analyst at Google, and a published author. In addition to running his own financial planning firm, lifelaidout®, he's also worked as an investment banker and even dabbled in real estate. Roger has pursued his interests and made careers out of them throughout his life. Being deliberate about your finances and your career can help you design the life that you want.
That's a big part of the message in Roger's book, Work Your Money, Not Your Life, as well as what we discuss in our latest episode of YAFPNW.    
The myth of the one perfect job
How did Roger get into the financial planning profession? His career began out of his own need, he explained. After a seven-year career in investment banking unexpectedly ended, Roger began blogging about the basics of finance. Eventually, he started writing about investing, learning more about it, which led him to become a CFP and start his own firm.
On top of running his firm, Roger also works at Google as a revenue intelligence analyst. He's proof that people interested in financial planning don't have to stick to one career path or one mold. Or even one career. 
There's this myth that you have to have one job "to satisfy all of your professional needs," Roger said. "That's putting a lot of pressure on a particular role. And I think that particular myth might send people on this...treasure hunt to find this one job that doesn't even exist."
While conducting research for his book, Roger found that many people balance one, two, or even three other roles simultaneously.
"I remember this one particular person saying that two jobs are better than one, Roger said. "What I figured out through the processes is that I'm actually able to do both of them better than if I only had one job."
Blending personal finance and career management
What does Roger do through his financial planning firm? His typical clients include couples from their late twenties to early forties. They're considering or facing a big life change, or starting to talk about finances and goals for the first time. While Roger analyzes their investments and assets to meet their needs, he doesn't actively manage them.
"First and foremost, my role...is to kind of ask the right questions to get them to talk about situations or things that they might not have thought about," Roger said. "Then to try to put their needs and goals into a perspective that allows them to come to a decision."
People's financial needs and goals don't exist in a vacuum. Personal finance impacts everything in someone's life, but you rarely find personal finance books that touch on something that goes hand-in-hand with it: your career. That's why Roger wrote Work Your Money, Not Your Life. His book talks about both career and personal finance because the two are so intertwined. They're also topics he wishes he could have learned more about when he was younger.
"I was passionate about this because work and money were two topics that I struggled with for a lot of my twenties and early thirties," said Roger. "And so the book that I wrote in the book that's out there is really what I wish I would have had in my twenties."
Check in with yourself
Times are uncertain and scary right now thanks to COVID-19, but for some, it can be an opportunity to reevaluate your job, your values, and if your current work aligns with your values. And if it doesn't, you might look at what's available to you in terms of other jobs and industries. Reach out to people in your network and see what's out there.
It's important to check in with your career periodically, not just during a time of instability. If there's one piece of advice Roger can leave for people considering or entering the profession, it's this: do a good job in your career, but also take a step back once in a while and make sure that your career is still a good fit for you. 
What You'll Learn:
How Roger got into financial planning
Roger's advice for people interested in the profession
Balancing a career at Google and his firm
A strategy for making the workday more efficient
Who Roger typically serves in financial planning
What inspired Roger to write Work Your Money, Not Your Life
The main message of Roger's book
Reevaluating your career during uncertain times
Roger's advice for new financial planners
Show Notes:
In this episode of YAFPNW, Hannah Moore, CFP®, and Roger Ma, CFP®, discuss:
Follow Roger on LinkedIn, Facebook, and on Twitter at @lifelaidout.