For those in the financial planning space, Carl Richards needs no introduction. As a former financial planner, Carl found tons of inspiration for his Sketch Guy column, which has been appearing weekly in The New York Times since 2010. Carl is a frequent keynote speaker, author, podcast host, and advocate of "real financial planning."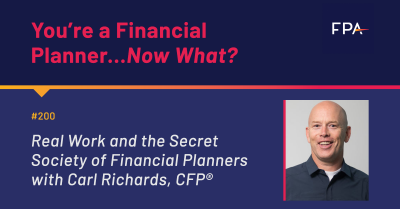 The secret little society of real financial planners
Carl described himself as the Lorax for both financial planners and clients. As a former financial planner, he's able to funnel feedback he gets from readers of his book or column to financial planners. He's also able to clear up misconceptions or complicated ideas about financial planning, most obviously through his Sketch Guy series in The New York Times. 
Unfortunately, one of the biggest misconceptions people have about financial planners is what they do. "It's so hard to explain what a real planner does because people have always had this experience with the opposite," said Carl. "When they sit down and meet with a real pro, it's so much different."   
We can blame the "fake people" in the profession who tend to overshadow the financial planners who are doing the real work: the actual financial part, plus the soft skills part. Giving advice. Being empathetic. Building trust. Really listening, and asking the right questions. This is the "real work" that is often so hard to market properly. However, Carl says to forget the marketing and sales stuff. What we need to focus on is listening and making things simpler for our clients.
Let's get better at diagnosing the problem
"Nobody cares about your solutions," Carl said. "They care about their problems." 
So what can financial planners do to work with that mindset? We have to become really good at listening. Diagnosing a client's problem, not immediately offering up solutions for it, is key to being a great financial planner. 
Carl pointed out that of course, there's a science to what we do; it takes skill and logic to come up with the right numbers for our clients. But most of what our profession entails includes "the stuff that kept you up at night," as he put it. Listening to your clients' dreams, goals, and fears. Emotions play a huge role in our clients' decisions. When emotions run high, someone might be inclined to make an irrational financial decision. And throwing a logical, rational solution at the situation won't work.   
"You can't solve it with a spreadsheet and calculator," said Carl. "What they want first is to be heard. They want to be seen. They want space."
Carl's advice for new planners
With the COVID-19 pandemic going on, now more than ever we need to truly listen to our clients, rather than rush to change their minds or solve their problems. That's the real work that we have the potential to do, "true work" as Carl also put it. That's what he sees himself doing in the future: helping people do their thing, whether that's in the financial planning space or not. 
One way we can achieve our goals? Stop putting up intentional roadblocks for ourselves. Get rid of the excuses, do the work and understand the value in it. Don't be afraid to put yourself out there and say what you have to say.
"If you think it's interesting and important and helpful, it is," said Carl. "If I think I captured it, then I'm going to put it out in the public. It's not my job to decide if I hit the mark. My job is to do the work and put it out."
We're so excited to have Carl on YAFPNW this week. Tune in to the full episode and give it a listen!
What You'll Learn:
Being the "Lorax" for financial planners and clients
How financial planners can do "real work"
Why we should focus on diagnosing, not problem-solving
How emotions play into the profession
The difference between being simplistic and elegant simplicity
Carl's process for his sketches
Where Carl sees himself in five to ten years 
Advice for new financial planners
Show Notes:
In this episode of YAFPNW, Hannah Moore, CFP®, and Carl Richards, CFP®, discuss:
Follow Carl on LinkedIn and on Twitter at @behaviorgap.
Listen Now