On this week's episode of YAFPNW, Hannah and Keith discuss the evolution of Keiths' firm (as well as the profession), how his firm serves clients, and what he's doing to grow the number of diverse advisors in the future.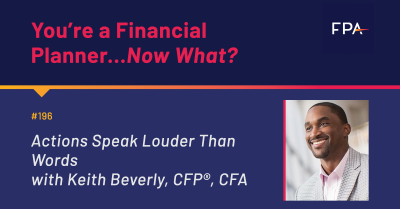 Psychology and passion for investment
What inspired Keith to go for both CFA and CFP credentials? To start, he knew he wanted to be in wealth management since he was in college. And in high school, he wanted to be a psychologist before he decided to enter business school. 
"The idea of someone sitting on my couch and telling me all their problems and me helping them solve them…it always appealed to me," said Keith. He saw financial planning as a profession that could marry both of his interests and still allow him to help people.
After getting his MBA and working in various investment management or financial planning roles, Keith set up his own RIA…and was the only person in his class to do that. "Everyone was smarter than me, obviously," Keith quipped. "It was definitely tough."
However, he doesn't regret taking this route right out of high school. Not only did he gain an appreciation for being an entrepreneur, Keith also gained valuable experience serving his clients. Valuable experience he may not have had access to if he had joined a larger company out of school.
A team approach to clients
Since Keith started his firm, Grid 202, the clients he serves have changed over time. What began as a fee-only firm catered to "do-it-yourselfers" has grown into lifelong clients across professions like healthcare professionals, attorneys, corporate executives, and professional athletes. Plus, over 40% of Grid 202's clients identify as a person of color. 
"Looking at the industry and where we were, especially when I started the firm, I didn't see how I could serve that demographic in a meaningful way when I was coming out of business school," said Keith. 
But now, Grid 202 has grown into a team of advisors that has about 50 years of experience in the industry collectively. That experience is put to use when building relationships with new clients by using a team approach: at least two advisors work with every new client, based on the client's goals or background.
Supporting new financial planners
Outside of Grid 202, Keith has also spearheaded initiatives around new financial planners and growing the number of diverse advisors in the profession. His outreach arm, moXY Financial, works with other advisors to mentor and support newbies who may feel lonely and isolated when trying to study for exams or start their career. As one of fewer than ten African-American advisors in the country, Keith knew there was a need for such a support system. Instead of just talking about the problem, Keith put his passion and ideas into action, which is more his style anyway.
"I'm not a big talker, " Keith said. "I like to see myself as a more of a doer than a talker."
Despite how he describes himself, Keith had even more interesting and inspiring stories to share in this week's episode of YAFPNW. Be sure to tune in and listen to the full episode!
What You'll Learn:
How Keith realized he wanted to be a financial planner
Keith's educational journey
How his clients have changed over time
The experience of starting your own firm
Keith's team approach to serving clients
The future of Keith's firm
Thoughts on minorities in the profession
What moXY Financial does
Keith's advice for problem solvers and new planners
How the profession will change in the next 20 years
Show Notes:
In this episode of YAFPNW, we talk to Keith Beverly, CFP®, CFA:
Stay up to date with Keith on LinkedIn and on Twitter at @KeithBevCFA.