He has a ton of great insight to share on the hiring side of firms: what employers are looking for in job candidates, how you can nail interviews, and what you should do after you're hired to join a team.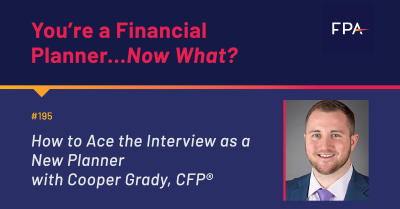 What are firms looking for in candidates?
Cooper's background as an insurance broker dealer and team member for a fee-based advisor taught him a lot about working with other people, among other skills. Teamwork, communication, honesty, vulnerability: these skills are just some of the "intangibles," as Cooper put it, that make a great financial planner. You can have all the certifications and technical skills under your belt, but they won't make you stand out from your competitors if you're lacking in those intangibles. 
Another thing Cooper likes to see as a recruiter? The right balance of self-confidence and humility. Employers know that you're nervous during interviews; that's to be expected. If you get stumped on a question, try to remain positive and don't beat yourself up. We all know that the interview process can be nerve wracking. There's a lot of pressure to present yourself as the perfect candidate. But that shouldn't be the case. 
For one thing, the perfect employee or perfect candidate doesn't exist! We all have individual strengths and weaknesses. Knowing what they are, embracing those weaknesses, and having a plan to be better is what will impress an employer. And of course, don't lie about your strengths and weaknesses. That's just asking for trouble.
"The truth is always going to come out, so I say, embrace your lack of experience," said Cooper. "Go in there with confidence. Everything else can be taught on the backend." 
Nailing interviews takes practice and preparation
You have the confidence, honesty, and vulnerability down. So how can you actually nail those interviews and get hired at your dream firm?
The "gatekeeper interview," as Cooper described it, is usually that initial phone interview with generic questions. "Where do you see yourself in five years? How did you solve a problem with a client?" They may be generic questions, but this initial interview is a prime opportunity to impress your interviewer with your experience, skills and knowledge of the company. How will your strengths bolster the firm? What skills do you bring to the table? You can steer the interview in a direction you're confident in, Cooper said. 
To ace the interviews after that, whether they're video or in-person, you need to be prepared. Figure out any technology ahead of time so you don't have any mishaps. Answer the interviewer's phone call promptly, or if it's on you to call the employer, don't be late! And practice, practice, practice, said Cooper. Practicing for an interview is essential, especially if you need a confidence boost. You'll feel better prepared for questions that will most likely be asked.
You're hired, now what?
You've nailed the interviews and now it's the first day on the job at your new firm. Your work doesn't stop there. To be a successful new planner, Cooper said, you need to be organized, prepared, and energized. Write down a few goals that you want to accomplish, people you want to meet, or things you want to talk about with your superiors or team members.  
One of the most underutilized tools in the workplace, Cooper mentioned, is leveraging the resources around you. When you're a new employee, you have to prepare for the moments when you don't know how to do something, or you fail spectacularly. That's all part of working towards success.
"One of the most important things to be a successful employee is knowing when to raise your hand and ask for help," said Cooper.
What You'll Learn:
How Cooper entered the profession
His advice for candidates looking to get hired
What employers consider "huge red flags"
How to handle getting stumped by an interview question
How to prepare for your first interview
Questions you should be asking the employer
How to nail the "gatekeeper interview"
What new planners should do after they're hired
Three reasons why candidates don't work out
Show Notes:
In this episode of YAFPNW, Matt and Cooper talk about:
Interested in following Cooper's career? Follow him on LinkedIn!
Listen Now