When starting your own firm or even first entering the profession, there's this sneaky sort of pressure to be a visionary and have a big, impressive plan for your career. Especially on social media. You have to hustle and grind, go after your dreams, make them happen, and know exactly where you'll be five to ten years from now. But what if that's just not you?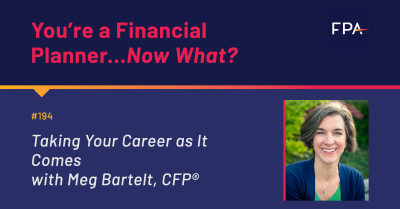 Meg Bartelt, CFP® is not one of those people. At first glance, you might think she is, thanks to her CFP® background and status as president and founder of Flow Financial Planning. However, as she told me in this week's episode of YAFPNW, Meg is a bit "risk averse" and prefers to take things as they come. We had a great time discussing how she founded Flow Financial Planning, how she got through the low points in her career, and what has helped her become a better planner. 
Meg's journey from tech to education to financial planning
Like many others in the profession that we've had the pleasure of interviewing, Meg's career started out elsewhere: the tech industry. After finding tech uninspiring, Meg jumped into a master's program in financial planning, which suited her academic family background. Meg completed the program after moving back home to Virginia from San Francisco, while working part-time and starting a family at the same time. 
Her first job in the profession seems like a dream for many newbies: a fee-only financial planner was looking for a successor to take over her practice. Meg worked for this planner for several years, gaining experience and wisdom in the process. Ultimately, though, she didn't buy out that practice. That financial planner actively managed her client's investments, and Meg herself is "a diehard passive investor." Meg also found other reasons to say no and forge her own path.
"The idea of going half a million dollars into debt, to take over a firm that was sold largely on an active investment management story, working with a clientele that I didn't quite resonate with or it didn't resonate with me, it just made me feel funny inside, basically," said Meg. "And it was that feeling funny inside that made me say no. And I'm too risk averse in that way."
Making the leap to starting her own firm
Despite being risk averse and a self-described "weenie," Meg began her own fee-only firm after moving to Washington from Virginia. With a strong financial foundation, support from her family, and plenty of resources to guide her through the process, Meg made the leap and started Flow Financial Planning. She knew that it was financially feasible and good timing to make the leap. In fact, this attitude of choosing a path despite not knowing all the variables or outcomes has helped her become a better planner. 
"Some of my clients have, in fact, wanted to quit their full-time job to launch their own firm doing what they had been doing as an employee," said Meg. "What I'm mostly concerned about is, let's just make sure the downside's protected and then go for it."
Now, Meg is focused on scaling her firm, increasing revenue, and honing its processes and client services. Right now she gets the majority of her prospective clients from referrals and her content marketing efforts. Thanks to her writing background, Meg found that building her online presence with financial planning blogs has pulled in quite a few clients. She doesn't write as much as she used to, more when inspiration hits, but it's still a creative outlet that catches the eye of prospective clients as well as the women in the tech community.
Take care of yourselves, young professionals
What other advice does Meg have for people blazing their own path? Take care of yourself. Don't neglect your needs. Starting your own firm is hard, and you will likely get to a point where you'll feel overwhelmed and as if you've made a huge mistake. If that happens, "put yourself before literally everything else in your life," said Meg. When you prioritize self-care, you'll change the way you see things. You will feel better. 
Speaking about the low point she experienced about eight months after starting her firm, Meg said, "The reality hadn't changed at all, I just felt a little more hopeful about it all." That's huge. We see a lot of people experience burnout and leave the profession, especially women, who feel like they have to do it all and have it all. That's just one of the reasons talking with Meg this week was so inspiring. She's incredibly grounded and pragmatic; anyone entering the profession (or anyone who just needs a refresher) can learn a lot from her.
What You'll Learn:
How Meg moved from technical writing to financial planning
Her first job in the profession
Why Meg is a fee-only planner
How a risk-averse person made the leap and started her own firm
What it takes to make your online presence awesome
Where you can find clients when you're starting out
Meg's advice for when you hit a low point in your career
What Meg has learned and where she sees herself in the future
Show Notes:
In this episode of YAFPNW, Meg Bartelt, CFP® and founder of Flow Financial Planning, talks with me about:
Follow Meg on social media via her LinkedIn and on Twitter at @MegBartelt.