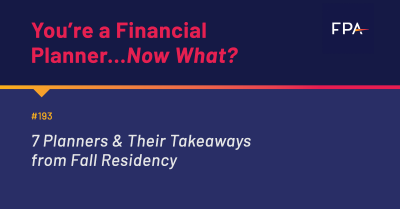 For this week's episode of YAFPNW, I was lucky enough to bring back my team from the event: Savannah Cooper, associate financial planner at Morris Financial Concepts; Sophie Leahy, associate planner at Obsidian Planning Solutions; Chad Johnson, CPA and owner at Avalanche Financial; Valeriane Wilson, CFP®; Terry Bradford-Crane, owner of Bradfordcrane Company; and Tom Annin, financial planner at Sullivan, Bruyette, Speros & Blayney.
We discussed what we learned from each other, the challenges we faced as a team of total strangers, and our big takeaways from Residency.  
Reflecting on our Residency 
Since Residency took place in October, it was nice to have time to reflect on our individual experiences in the program. We began our discussion talking about what it was like working as a team of complete strangers. Even if you're an extrovert or you thrive on situations like this, it can be pretty scary. How do you overcome the unique challenges of being teamed up with strangers to accomplish a shared goal?
Savannah said that we got off to a good start by sharing our experiences and our mindset for going into the program. Understanding each others' differences and having mutual respect for one another laid the foundation for a harmonious relationship. Terry mentioned that being honest about our strengths and weaknesses with each other encouraged individual growth. We're so used to having the answers for our clients that it was a nice change of pace to be vulnerable with our teammates.
Learning from other professionals
There were plenty of opportunities to learn, not just from one another, but from mentors as well as other groups at Residency. Sophie said that one skill everyone in the profession must continue developing is being a leader on a team. Knowing how to communicate with teammates to reach a specific goal is extremely helpful. 
One area of improvement Chad is working on is "open-ended questions." Asking the right questions of your teammates as well as clients. As Chad put it, you don't get true feelings or opinions by asking closed-ended questions. Yes or no answers don't give you enough information. "The open-ended questions are what really get to the heart of the issue," said Chad.
For Tom, picking your battles and remembering the big picture was a skill he had prior to Residency, but the experience helped improve it. Being right and proving your point is not always the top priority. That's important to remember when helping your clients. 
"In the grand scheme of things, you might have a disagreement with somebody, but if it's not something that's really going to make or break a certain situation or it's not going to adversely impact the client's situation or something along those lines, then it might not be something that you need to necessarily have a disagreement about," said Tom.  
Our one big takeaway from the experience
I asked our guest hosts to choose only one big takeaway from our Residency experience that we'd apply to our future growth as financial planners. Interestingly, we all had different takeaways with one similar underlying theme: communication. 
Savannah chose a willingness to learn about different ways of interacting with clients. Sophie mentioned having the tools and open attitude to build deep relationships with clients by learning their personal stories. Tom said taking a step back and focusing on client goals, and what's really important. Terry mentioned giving clients the time and space to fully share their goals so your partnership can achieve them. Chad chose being client-focused and really understanding what they're looking for. Valeriane said connecting with the client by listening and asking great questions.
Just as we talked about in the episode, it's interesting to see how a team of seven different people can have unique experiences, careers, and backgrounds. Yet we all came to very similar conclusions on how we can be better teammates, leaders, and financial planners.
What You'll Learn:
The challenges of working with strangers as a team
Advice we'd give to new planners
What we learned from other professionals
The value of open-ended questions
What we learned from other groups at Residency
Having a script vs natural conversation with clients
Our big takeaways from Residency
Show Notes:
In this episode of YAFPNW, we discuss:
Want to keep up with our guest hosts on social media?