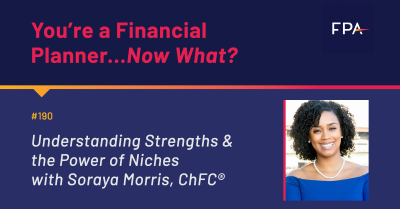 This week on YAFPNW, Soraya Morris is our guest. She's a lead trainer at financial planning software firm Envestnet MoneyGuide and all-around inspiring figure in finance. Soraya and I talked about what she does at Envestnet MoneyGuide, her education and career journey, and what you can usually find her doing when she's not working. 
How Soraya entered the finance space
Soraya and I first talked about who and what sparked her passion for finance. Soraya said that, growing up in a low-income household in a low-income community, she'd see kids on TV living in big houses and frequently going on vacations. Compared to what she knew, living paycheck to paycheck, Soraya grew interested in managing money. Her grandfather helped nurture her interest in finance and the stock market too, sitting her down with the newspaper and asking her what she'd invest in and why. From there, Soraya became involved in the Future Business Leaders of America organization in high school, which continued to feed her passion for finance.
Following her education at Virginia Commonwealth University in Richmond, Soraya took on an internship at a firm that used software by Envestnet MoneyGuide (where she'd later work). She stepped into a role as an associate advisor at another firm afterward, where she realized she loved working with clients, explaining concepts to others, and public speaking.
Know your skill set to find success
Before Soraya put her best skills to use at Envestnet MoneyGuide, though, she faced challenges with the CFP®. After taking the exam twice after school and failing to pass, Soraya was very discouraged. But she used it as an opportunity to learn more about herself and improve. She also learned about the ChFC® designation, which has all the educational requirements of the CFP®, plus two additional courses in behavioral finance. Soraya earned her ChFC® designation; earning the CFP® is still on her list of goals to achieve.
We financial advisors know that earning any designation takes commitment and hard work. The same goes for finding success at a fintech company. What's great about fintech today, Soraya explained to me, is the number of different jobs available. Soraya and I talked about her role as a lead trainer at Envestnet, where she travels the country and trains anyone who uses the software how to use it efficiently. As an extrovert who loves talking to people and thrives on public speaking, Soraya found the perfect career for her skill set —  especially since most of us are terrified of public speaking!
This raises a very important point: When you understand your strengths and passions, you can more easily find a career in fintech (or in the profession at large) that works for you. Love to write and edit? You can find a position that allows you to work on white papers, deliverables, or webinars. Love coding? Look into a fintech company that's hiring for a front-end or back-end developer. Find your niche.
Passion and networking will take you places
Having a hunger for knowledge and a willingness to learn is the key to success, said Soraya. So is networking. Are you groaning as you read that?! Well, don't. Soraya has some awesome tips on how to eliminate the stress or boredom from it. As she puts it, networking is another way to discover career opportunities in places you might not expect. Soraya is also extremely dedicated to volunteering, as you'll hear in this episode. Envestnet offers paid volunteer days off, but you'll often find Soraya volunteering on her own time with Junior Achievement and through her church.
Soraya's journey and current work is hugely inspiring, not just for those looking to enter the profession, but anyone trying to find a career that speaks to them. There are a lot of excellent tidbits about other jobs you might find in fintech and Soraya's goals for the future. Don't miss out and tune in to the full episode!
What You'll Learn:
Who and what sparked Soraya's passion for finance
Soraya's journey from college to Envestnet MoneyGuide
The CFP® vs. ChFC® designation
What Soraya's role at Envestnet MoneyGuide entails
How understanding your strengths can help you land the best finance job
What you need to be successful in fintech
Types of jobs available at a fintech company
Soraya's career and volunteering goals for the future
Show Notes:
In this episode of YAFPNW, Soraya and I discuss:
Follow Soraya on social media: on LinkedIn, Instagram at @soraya.morris, and on Twitter at @Soraya_Sunshin3.