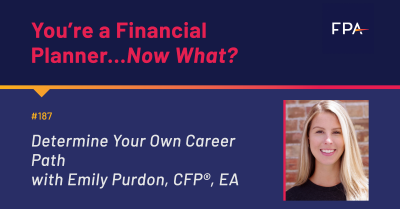 Emily Purdon, CFP®, EA, is a Financial Planning and Process Coach at XY Planning Network. Emily earned a Financial Therapy Graduate Certificate from Kansas State University (KSU) and completed Wharton's Executive Education Program in Client Psychology. She expects to earn her M.S. in Advanced Personal Financial Planning from KSU in May of 2020. On top of all that, Emily currently serves on the Pamplin College of Business Recent Alumni Board as the Outreach Chair.
I was lucky enough to sit down with Emily at the FPA Annual Conference for a follow-up to the first podcast she appeared on with me just over a year ago. Emily shed some insight on her career change since the last time we spoke, as well as what Emily thinks many other NexGen planners are looking for when it comes to careers within the profession. 
In this interview, Emily shares what she has seen in her current role at the XY Planning Network and how it can help firms reach the next level. She also gives some really inspiring advice on how we, as NexGen planners, can determine our own career paths.
Exploring different opportunities
After graduating from Virginia Tech's CFP® program, Emily started off her career as a financial planner for Sullivan Bruyette Speros & Blayney and McLean. She realized, after being at the firm for a couple of years and promoting up, that there are many ways to use financial planning knowledge — and it doesn't have to be strictly in a paraplanner or lead planner role. After realizing this, she decided to venture out and start looking into new opportunities to utilize the skill set she had developed while at her current firm.
A lot of young planners fresh out of college see a big gold star with the words "Lead Planner" in their future, but Emily wanted to share that there are so many other avenues out there worth exploring. And she walks the walk — Emily wasn't afraid to do to take her financial planning career to the next level, and a new place entirely.
She knew following an entrepreneur-type model wasn't for her⁠; she had seen others do this and knew her skills didn't reflect that of an entrepreneur. I think this is incredibly self-aware because, sometimes, knowing what you don't want to do is half the battle. 
Knowing she had skills in teaching ⁠— and understanding how teaching correlates to advising clients — she started paying more attention to the profession. After ruling several paths out, she accepted a position at XYPN as the Financial Planning and Process Coach, where she is now able to share her knowledge in the profession to new planners as they start, run, and grow their businesses. 
Current trends in the financial planning profession
I've learned from my discussions with Emily that she is a woman who isn't afraid to own what she's good at, which I think is a huge factor in her success (plus I admire her for it!). She also understands the current trends and how to use them to our advantage as a profession, so of course, I had to ask her about the current trends she's seeing and what we need to know about them. 
"I've seen a lot of what we call 'solopreneurs,'" she said. "People that went out there with the purpose of building a lifestyle practice where they can maybe replace or duplicate a previous salary, live a fun, fulfilled life spending time with family. I'm actually seeing them shift into hiring virtual paraplanners, interns from various CFP® programs, and actually starting to staff out a little bit, which wasn't really their initial goal." 
A couple of years into their businesses, Emily shared, these solopreneurs start looking for young professionals straight out of college, perhaps people who want to work virtually and allowing those new planners to do virtual work for the firm.
Of course, this leads to the major trend right now: firms across the board are doing what they can to leverage technology. One of the topics covered at this year's FPA Annual Conference was about how and why financial planners are integrating technology and virtual elements into their firms. Emily shared that she has seen this take off firsthand in her own firm and amongst other members. She said that she thinks the biggest reason for this is the flexibility technology allows: "It comes down to the fact that when you're able to hold a virtual meeting efficiently, transparently, you allow them to spend time with their families, you allow them to spend time doing what they love," she said. 
I find it interesting how professionals are using tech to grow their practice in meaningful ways, and how it's going to change the future of our profession, so I'm glad Emily called attention to this. 
Taking your firm to the next level
One of the biggest questions I wanted to ask Emily was about her experience seeing firms taking their businesses to the next level in her role at XYPN. (If you're interested in growing your own firm, this part of the interview is gold!)
She shared some of the research that's been done, which found that most firms hit capacity around 70-75 clients. That's a lot of clients, but Emily shared what she sees the "smart" firms do: "What I see people get right is when they hit 30 clients, they actually hire help. And that help could be a virtual paraplanner, that help could be an intern, that help could be admin or back office. That initial round of help gets them to 75." 
Basically, these firms (and the people operating within them) know when they need help before things get too crazy. These firms also recognize that hiring and delegating are the key to taking a firm to the next level.
But that doesn't mean these firms are always getting it right to bringing help on. One of the issues Emily pinpointed is the training of new employees at a firm, something every company does a bit differently. Some firms, she said, have robust onboarding processes for their staff. Others, however, just have the new employee shadow them for a month and operate on a "let's see what happens" basis. 
If you're thinking about starting your own firm, are growing one currently, or want to be part of a succession plan, you need to know how to onboard new talent. It's also valuable for those of us looking to change firms or careers within the profession; consider what sort of support you need in a new position, and look for places and people who can offer that.
This podcast has so much more insight in it than what I could share here, including how NexGen planners can find their career path, why you should be attending conferences and in-person events, and why more of us need to speak up. Tune in, because Emily has so much wisdom to share with all of us.
What You'll Learn:
Why it's OK to switch from a career you've enjoyed to an unknown
Why exploring different avenues and career paths is essential to growth
How to evaluate what you do NOT want to do, and why it is just as important as knowing what you DO want to do
How the financial planning profession and NexGen planners are really growing thanks to technology
Why virtual planners are becoming more popular for boutique firms
How to be an advocate for yourself in your career
Why finding valuable employees isn't a problem—retaining them is
How to take your firm to the next level by upping your training standards
Show Notes:
In this episode of YAFPNW, I talked to Emily Purdon, CFP®, about:
Stay up to date with Emily's journey as a CFP® by following her on LinkedIn.