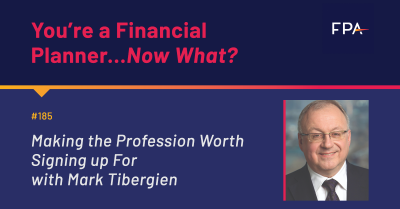 Mark Tibergien is the Chief Executive Officer of Advisor Solutions at BNY Mellon | Pershing. He is also a member of Pershing's Executive Committee and a member of BNY Mellon's Diversity & Inclusion Advisory Council to the CEO. In 2019, Mark was named to the inaugural Asset Management Advisory Committee, formed by the Securities and Exchange Commission, to provide diverse perspectives on the needs of retail investors and market participants.
This discussion with Mark is a real deep-dive into his decades of experience in the world of financial planning, how he has seen the business grow and change in many ways over the course of his career, and the power of reverse mentoring in a firm. I am so excited to share his wisdom with you, so let's dive in!
The evolution of career paths within financial planning
Sitting down with Mark, I first asked him to share his view on the evolution of the career path within financial planning. 
He shares that, when he first started, it was primarily an investment-forward profession. Over time, Mark has watched as it's transformed into a more planning-forward profession, and he estimates that it will transform into an experience-forward one as time goes on. What does that mean? That consumers will emphasize (and value) the experience of financial planning even more. The great news about this — at least in the United States, Mark says — is that advisors are starting to put more effort into how they can transform the lives of their clients.
As a result, Mark explained, new career paths are starting to emerge. Before, career paths were based on the level of production a planner could provide. You'd transition from a rookie broker to an assistant vice-president, from a vice president to a director and then to a managing director. Each time you moved up, it just meant you were moving to a higher level of revenue generation. 
Career paths now mean more in the world of financial planning. It's truly more about what the advisor does to master each level of the business and the meaning behind it.
Embracing the stages of your career
Mark also made a case throughout our interview about the path a new planner chooses. When a young financial planner understands that they have the power to create their own individual reputation, they're on the right path. Mark urges young financial planners to take control of their own career decisions in a conscious way, as if they are developing their own brand. 
Where do you want to go? What do you want to accomplish? These are thought-provoking questions young planners should be asking themselves when starting out, and repeatedly throughout their careers.
After hearing Mark speak the night before at our FPA conference on career paths and his work with the CFP Board, I asked him to elaborate on one of his points; the most overlooked career stage within financial planning.
If those new to the profession were properly supported during this stage, Mark says, they would realize that they are not only growing in their profession but also growing into an empathetic human who will be handling clients and planning issues. Curious about what that stage is?? Tune in to the full episode.
Elevating financial planning into a true profession
In this episode, Mark and I talk about education and how it should be used to continue to elevate the profession. If the barrier to entry is too low, Mark believes the quality of work provided within the profession will begin to slip.
He also made a great point about the language our clients use, and how small tweaks can make a huge difference. Switching up the language from "I am working with an advisor" to saying "I am working with a financial planner" could be key to elevating the profession. 
We should also be focusing on representing multiple generations and demographics, as well. Financial planners aren't just middle-aged white men. There are plenty of women, people of color, and people of different faiths who comprise this profession — and there's always room for more.
Mark also made a great point: We, as professionals in the financial planning community, need to advocate for ourselves and our profession. Basically, we should be financial planning missionaries, spreading the word about this work and its impact. As Mark explained, we need to fully demonstrate how we are impacting the lives of others, helping them navigate their life choices, and transforming their economic freedom.
Reverse mentoring and final advice 
Last but not least, Mark and I talked about the value of mentoring. He has a unique perspective on it and shared how "reverse" mentoring should be part of our vernacular within the profession. 
"One of my fellow partners at Pershing saw that, as we were sitting around the executive committee, it was mostly middle-aged, mostly male." This observation led the firm to an idea that could be transformative in creating real employee engagement and change: the idea of reverse mentoring.
The very first pilot reverse mentoring program was held by members of the executive committee. They were assigned a reverse mentor after a vetting process, and those pairs met once a month to talk about issues and learn from each other. Those discussions and the solutions they brainstormed would then lead to recommendations to the board.
Mark tells me that the reverse mentoring program was "One of the most enlightening experiences of my life. I've always considered myself to be a listener and empathetic, but sometimes you take things for granted."
Final pieces of advice from Mark
When I asked Mark for any final bits of wisdom and advice he would like to pass on to new financial planners, he was excited to contribute. He talked about the importance of finding your own career path and of coming to every interview with questions. He also calls each of us to learn from each other and to encourage people to share their insights. It's the only way to make the profession better.
But my main takeaway from my time with Mark is that our field has some growing to do in multiple areas. We're already so strong, but there's always room for improvement. We, as NexGen financial planners, need to help others see that this is a career worth signing up for. That the potential to help others and to generate revenue at the same time is actually possible I think that's quite the mission, and this chat with Mark got me excited to get to work.
What You'll Learn:
The evolution of the career path within financial planning
The most overlooked career stage in the profession
The importance of developing young financial planners
How to choose the correct firm to partner with
The correlation between language and elevating the profession
The variety of ways you can start your career
The power of reverse mentoring 
Why you should walk into interviews with answers and questions
Show Notes:
In this episode of YAFPNW, I talk to Mark Tibergien about:
Stay up to date with Mark Tibergien by following him on social media!