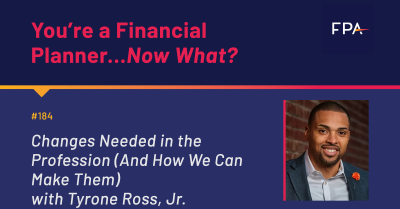 This week on YAFPNW, financial management consultant Tyrone Ross, Jr. makes an appearance. We get into the nitty gritty of the financial planning world: how the profession can change for the better, why the phrase "diversity and inclusion" is overused, and what financial planners and advisors can do now to create a better future for ourselves and our clients.
An unconventional journey to financial planning
The road to becoming a financial advisor or planner is not a straight one, and it's not often easy, either. Tyrone explained that initially, he didn't set out to become a financial advisor. After being the first in his family to finish high school as well as attend college, Tyrone studied biomedical engineering (a "large mistake," as he put it) at Georgia Tech. He then majored in communications, until one of his graduate professors asked if he had ever thought about working on Wall Street. 
Tyrone hadn't. He dove headfirst into the finance world, and started his financial advising career in 2006. And as we all know, the 2008 financial crisis occurred during that time, which many might assume made his work all the more difficult. However, "It was an amazing time to start my career," said Tyrone. After getting his Series 7 & 63 licenses, Tyrone worked as a financial advisor at Merrill Lynch until 2017. Since then, he's been working independently as a financial management consultant, startup advisor, and entrepreneur.
"Changing rooms" to change the profession
Tyrone spoke about how lucky he was to have connections to Wall Street, connections that enabled him to get his foot in the door. Most people don't — particularly black males. And that's something Tyrone is extremely passionate about changing, which I think is palpable when you listen to this episode. Though many companies and organizations have initiatives that promote diversity and inclusion, it's not enough, or it's not working. Tyrone said that it has become a trope, and it has lost its intended purpose. 
So, I asked him how can we find our way back and promote real change within the profession. He shared that it starts with being mindful about who we include in the conversation. Take financial conferences, for example. Tyrone recounted how he's been fortunate to be asked to speak at conferences. However, he's usually speaking to a room full of white men. That's where "changing the rooms" comes in. Why not have more diverse panelists, or keynote speakers, or moderators, or even attendees? 
This attitude goes beyond conferences, too. Tyrone noted that we need to go where the people are — the people who need our help. Venture out of our nice offices and beautiful districts and get closer to people who may not live in the wealthiest part of town. Or maybe they're students at a university who aren't first choice for jobs on Wall Street. If we don't create a bridge between those people and Wall Street (or the financial industry at large), we lose out on a lot of potential talent. 
Once we "change the rooms" to include people from different backgrounds and cultures, we'll ultimately change the financial advice we give, the marketing and advertising we use, and the client base we serve. This natural, purposeful change will affect the profession for the better, rather than a forced change through diversity and inclusion initiatives. Tyrone really got me inspired here, so I hope you'll check out this episode and listen to how passionate he is!
Expose, educate, and empower to improve the profession
So... When the rooms change, what happens then? Tyrone told me that the problem with our profession (that no one wants to admit) is that we all think we're smart, and our main goal is to prove how smart we are. And we teach this mindset to trainees, who teach it to the next wave of trainees, and so on. But his method of teaching professionals is more comprehensive and, well, smart. 
He calls it the three Es: Expose, educate, and empower. Rather than throw a bunch of impressive information at people entering the financial planning profession, we need to slow down and expose people to the world first. Look at our marketing literature, podcasts, and community outreach. Do people know what a financial advisor or planner does? Do they know what it takes to do that job? How can they get started?
Once people begin asking questions, they can find opportunities for education. Tyrone mentioned that it would be helpful to have a career path in college that leads to opportunities at financial services firms. Following education comes empowerment. New graduates and professionals can benefit from all kinds of resources, like websites to check out, books to read, extra classes to take, or conferences to attend. From there, we'll create a generation of planners and advisors who know what they want and can find the resources to help them do it well.
Tyrone's advice for graduates and new professionals
Regardless of background, education, or previous experience, Tyrone believes planners and advisors need to be mindful of three things when graduating or entering the profession. Networking is a top priority, first and foremost. Build connections on social media. Reach out to others. And when they connect with you, take the time to follow up with them, whether that's through messages or thank you cards or emails. 
Building your network goes hand in hand with building your brand, too. Tyrone called it "embracing the sales piece." It's not so much envisioning yourself as a cheesy infomercial salesperson, but rather being mindful of how you present yourself. How you dress, speak, walk, talk, and sell yourself to people. "That doesn't stop once you graduate. If anything, it becomes more of that now," Tyrone explained.
Finally, he said, lead with gratitude. Let people know that you are grateful for any introduction, grateful for any partnership, grateful for any invitation you are offered. People remember you when you're thankful for their advice or connections or opportunities. "The most important thing you can do," Tyrone shared, "... is always staying grateful."
There's so much to take from this episode, and Tyrone is a real inspiration. If you're curious about making the profession a better place for everyone, I highly recommend that you tune in.
What You'll Learn:
Tyrone's unique introduction to the financial planning world
How he started his career during the 2008 financial crisis
Changing views of diversity and inclusion in financial planning
Why financial literacy and education are so important
How we can work towards diversity by "changing the rooms"
Why no one should be afraid to speak up and speak out
Tyrone's "three Es" for teaching trainees
Why we need to get closer to the people who need financial planning
How purposeful change affects every part of the profession
The power of advocacy
Why networking and gratitude will get you far
Show Notes:
In this episode of YAFPNW, we spoke to Tyrone Ross, Jr. about:
Want to follow Tyrone? Check out his LinkedIn and follow him on Twitter at @TR401.