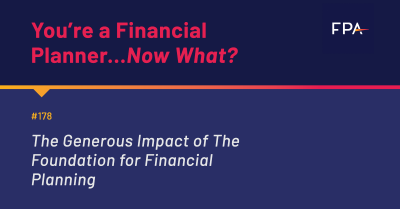 Alex Armstrong, CFP® is the founder and chairman of Armstrong, Fleming & Moore, Inc. and has been in the financial planning business for over 40 years. Aside from being one of the most successful women in financial planning, she is also a novelist and mentor. She sits on the board of the Foundation for Financial Planning and is the very first (and highly deserving) recipient of their Lifetime Achievement Award. She was also joined during our interview by Jon Dauphine, CEO of the Foundation for Financial Planning. 
Lifetime achievements in financial planning + giving back
I was so excited to get not only Alex on this week's episode, but also Jon. Together, they are such a powerhouse for pro bono planning and I was excited to dig in. Jon explains, during our chat, how the foundation came to create the Lifetime Achievement Award, and why Alex was a natural first recipient. He spoke highly of Alex and her contributions to the foundation — not only personally but also with her firm, Armstrong, Fleming & Moore, Inc. 
Jon provided a bit of a backstory, informing us that the FFP is the "nation's only charity that is solely devoted to powering pro bono financial planning." Jon continues on to say that the FFP brings "free services to hundreds of thousands of Americans that had been underserved and normally wouldn't be able to afford good planning and expert advice." In other big news, Alex and Jon shared that, for the foundation's 25th anniversary next year, Charles Schwab is sponsoring a $500,000 match campaign. This foundation is doing such important work, so make sure you to tune in to hear more about it!
The impact one person can have
It's clear that Alex is a passionate fundraiser and a champion of pro bono service. She, as well as her partners at her firm, have donated more than $1 million to the foundation — yes, you read that right! — and Jon recognizes her, not only her monetary donations, but also for the time and attention throughout the process.
When asked what first drew her to the foundation, Alex explained how much she wanted to rewrite the script on financial planning and who could access these life-changing services. One of her favorite things about the foundation when she first started out was how they paired pro bono financial planners with people who needed their advice the most. Alex also shared that she is a supporter of their endowment fund, and that she enjoys knowing that the money is there, producing money and then producing grants. It's long-lasting.
Pro bono and a foundation you can get behind
Having Jon on this interview was wonderful, because he broke down what the foundation truly does, including providing grants to nonprofits who have Certified Financial Planner™ professionals  as volunteers. These volunteers help underserved groups, including domestic violence survivors and veterans. But the foundation doesn't stop there. They also provide free resources for planners to use with pro bono clients and also provide trainings and engagement so planners and their clients can have a strong connection. One of their strongest initiatives is one that supports cancer patients and their families. 
The Pro Bono Cancer Initiative
One of my favorite parts in this discussion was about the FFP's pro bono cancer initiative. This program is a national program that is also virtual. Alex explained that, because it's a virtual program, those with cancer can tune in on their own time from the comfort of their own homes.  One of the biggest reasons behind creating this cancer initiative was the sheer number of people connected to the cause. Alex has personal experience losing a loved one due to cancer, as does the chair of the foundation. They felt it was important to give back to a cause that has affected so many.
There is an emotional, physical, and financial toll that cancer takes on a person and their loved ones. This is where the foundation can step in with resources, Alex explained.
The foundation's stories of impact
I asked Alex if she could tell us about any of the families who the foundation has had a positive impact on and she quickly told us about Mike Longo, a cancer survivor who was provided pro bono financial planning services. Mike and his wife had two small children and both worked, although their jobs weren't high-paying positions. The foundation was able to help them in ways the benefitted from and their story is up on the website to this day. One of the financial planners in Virginia was able to help Mike and his wife get better paying jobs and also get a handle on their bills so they could get back ahead.
It's stories like this that make Alex's impact (and the foundation's!) all the more real, and I'm so glad she shared it with us. 
How does the foundation ensure that the planners are fully equipped?
One of the questions that came to mind during the story of the Longos was about making sure financial planners are ready to take on certain clients. The foundation has a great partnership with Family Reach, a long-time financially focused charity in the cancer space. FFP helped Family Reachcreate a digital toolkit with financial materials and an online training course that helps cancer patients manage their finances. Jon also mentioned that they have fully funded a group of volunteers so there are others readily available to answer questions.
On the subject of volunteers, both Alex and Jon agreed: all volunteers are welcome. However, training is critical for Certified Financial Planner™ professionals looking to offer pro bono services, especially in at-risk populations or for those with health conditions. This is a sensitive and personal process, which is why the foundation will give those who want to help an opportunity to volunteer the training they need.Those who are interested in becoming a volunteer pro bono planner can go to the foundation's website to sign up to volunteer.
Closing thoughts and career/life advice from Alex
One thing Alex left us with that really resonated with me: she hadn't envisioned this when she started out. Her position was to help raise money by doing outreach, something she hadn't quite done before. After putting in the work,she was then asked to sit on the board and, ultimately, to become chair of the board.
She has now served over 20 years on the board, and she's made such a massive impact.
Her advice to NexGen planners looking to give back in big ways? Don't spread yourself too thin and donate to charities you truly believe in. She encourages others to give where they can, to start off by giving a small amount and, over the years raise that amount if you're able. Nobody starts off donating $1 million!
What You'll Learn:
Who Alex Armstrong And Jon Dauphine are
FFP's Lifetime Achievement Award 
The Foundation for Financial Planning's mission
How the FFP supports underserved populations
Why Pro bono work is so valuable to the profession
The impact that one pro bono planner can have 
The FFP's Cancer Initiative
The importance of training when serving pro bono clients
How to volunteer for FFP
Show Notes:
In this episode of YAFPNW, I talked to Alex and Jon about:
Alex is a powerhouse in the profession, and you'll definitely want to keep following her. She's such an inspiration to me (and I hope to you, too!). You can follow her on Linkedin. Jon is also on LinkedIn!