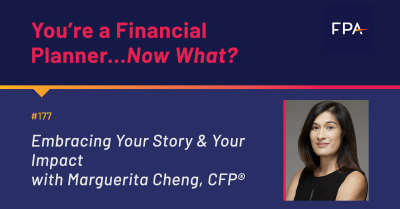 Marguerita M. Cheng, CFP®, is the Chief Executive Officer at Blue Ocean Global Wealth. She has served as an AARP Financial Freedom Campaign spokesperson and has contributed to Investopedia and Kiplinger. She also holds other designations, including: Chartered Retirement Planning Counselor, Retirement Income Certified Professional®, and a Certified Divorce Financial Analyst. As a Certified Financial Planner Board of Standards (CFP Board) Ambassador, Marguerita helps educate the public, policy makers, and media about elevating the profession. And of course, she has also served on the FPA's National Board of Directors from 2013 – 2015 and was president of the Financial Planning Association of the National Capital Area (FPA NCA).
 As you might imagine, Marguerita (who goes by Rita) was named the #3 Most Influential Financial Advisor in the Investopedia Top 100 in 2017, a Woman to Watch by InvestmentNews, and a Top 100 Minority Business Enterprise (MBE®) by the Capital Region Minority Supplier Development Council (CRMSDC).
There's not a whole lot this woman hasn't done, and I was humbled to get to chat with her. 
The Making of Marguerita
One of the most fascinating things about Marguerita is the story of how she got where she is today. She studied East Asian language and literature and finance in college. She wasn't aware of the discipline of personal finance, and how to apply corporate finance principles to individuals and families. Thanks to her dad, she learned a lot about the "tactical" parts of personal finance, but her biggest sign that she could help people with their own personal finances was after her second child. "I feel like I have this street credibility. I lived life a little," she said. After buying a home, paying down debt, and building a family, she felt she could help. So she got started. 
But as Marguerita talks about in the podcast, this story is part of why she was drawn to this work. Because of that, she wants NexGen planners to really embrace their story and what got them where they are today. Especially when that story doesn't read like everyone else's.
Diversity and Inclusion in the Profession
Marguerita is multicultural: a quarter Irish, a quarter Eastern European, half Chinese with a Latin name. She's "used to not fitting in," but she didn't see any role models in the profession when she started out. To top it off, she was a woman with two babies. All of that is part of her, and it's part of why she's a planner. It's also what connected her clients to her; she's embraced her story and she tells it. 
Part of the reason why, Rita shared, is because her clients were attracted to working with her because of it. But it's also because, by sharing her story, she could encourage the next generation of planners who maybe didn't have the same background as others in the profession. It was a matter of sharing her story and being present that could make all the difference for someone else. In that vein, Rita also shared her thoughts on joining associations like FPA and how to get the most out of them (personally and professionally).
It's Not Enough to Just Join FPA
When you join associations like FPA, Rita said during our interview, you need to get involved, whatever that your interest is. Maybe that means just attending FPA NexGen chapter meetings, or maybe it means taking a leadership role in your chapter. She also talks about the different ways you can play into your strengths, whether you love talking to people or you want to focus more on academia or research. But whatever you do, she asks that you don't just "join" an association and never use it. "Find that thing that you really think that you can make a difference and just go for it," Rita said.
Of course, she understands that new planners might feel like they don't have anything to contribute — "I'm too new, I don't know what I'm doing!" To that, she says that you don't have to be in charge of something, but your voice, your input, and your experience matter. You are going to make your association and your local community more vibrant. You're going to help it thrive — so don't just lurk in the corners. Get involved! 
You should also focus on making people feel welcome when you do engage with FPA, especially the FPA NexGen local chapters. When Rita went to her first FPA chapter meeting, she didn't see anybody who was like her. Now, when she attends an FPA meeting and sees somebody new, she makes sure that person will have at least three names and three friends. "If I cannot be at the next meeting, they have three people who they know. And so, they will not come back to a lonely, empty room." What a great idea, right?
Rita added that, with FPA, "I leave every meeting feeling smarter. To me, it's great to go to a meeting because I get to see my friends. They're my friends. This is our community." 
Giving Back Within Your Firm 
Another big focus of our chat was Rita's philanthropic nature. Not only does she run marathons like the New York City marathon to raise money for charity, but she finds ways to give back within her firm. She encourages other NexGen planners to find ways they can give back in their own community that's maybe in line with their practice. For example, if your firm specializes in serving women, why not support homeless women by creating a donation drive for basic hygiene items and clothing? 
She also makes the point that this is a great way for NexGen planners to get involved in their new firm, or to create something that is within their power. In the beginning, it can feel like you're not contributing enough, but giving back is always a great way to show that you're invested — not only in the firm but in the community it serves.
Multiple Mentors and What to Expect as a Mentee
We ended our conversation by talking about the power of mentorship — and how every relationship is different. Rita's one recommendation is to make sure that you (as the mentee) are realistic about what you want. You need to make sure that you are prepared and that you have a clear "ask" of your potential mentor. She talks about how many new planners reach out to ask her to review their resume, or to connect them with people in her network. Spoiler alert: that's not the right way to do this.
Know what you need help with, and ask for it clearly. Do not expect them to hand everything to you on a silver platter; mentors are there to create a safe space to support you and let you ask your questions. She also made a great point that you can have multiple mentors — and they can be peers, too. Find the people you feel comfortable with, but who will challenge and respect you.
You Don't Want to Miss This Episode
Marguerita is the true meaning of being authentic and true to yourself. She has built a business and reputation in the professional community based on what makes her unique, and she embraces that quality to the fullest. She's a true ambassador to the NexGen community, and she's trailblazing the nonprofit space by dedicating her life to giving back to the community she lives in. If you want to hear a truly inspiring story, and to hear Marguerita's call for you to elevate the profession, tune in to the full episode.
[tweet_box design="box_10" url="https://buff.ly/2qtSV1R" float="none" excerpt="I think an attitude, it's not cliché. Gratitude is really important.
- @BlueOceanGW on #YAFPNW"]I think an attitude, it's not cliché. Gratitude is really important.
- @BlueOceanGW on #YAFPNW 177[/tweet_box]
What You'll Learn:
The importance of sharing your story
Why it's not enough to join FPA
What new planners can do when they're feeling overwhelmed (and under-qualified)
The "3 names and 3 friends" motto that Marguerita lives by
Why leaders should take a more active role in NexGen planners' futures
The problem with inclusivity and how to turn the finance community into a space where everyone feels welcome
How giving back to your community can be incorporated in your firm 
The critical role mentors play (and why it's OK to have more than one)
The importance of showing gratitude to your mentors
How to properly thank someone who has helped you
Show Notes:
In this episode with Marguerita Cheng, CFP®, we talk about:
Marguerita is somebody you'll want to keep watching, so follow her on Twitter and LinkedIn.