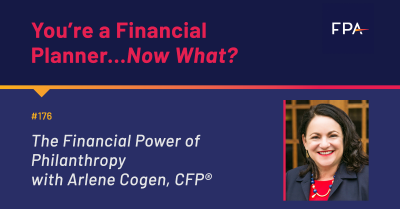 Arlene Cogen, CFP®, is a passionate speaker, trainer, coach, and author whose work as a Philanthropic Leadership Consultant is rooted in deep values and meaningful relationships. Using her experiences as a financial planner, she teaches clients and advisors alike how to find their financial happiness and leave a legacy of giving by integrating philanthropy into every aspect of their lives. During our interview, Arlene leads the conversation on blending finances and philanthropy, opens up about her transition into the world of nonprofits, and how she's working to turn financial planning into a family affair.
Arlene also proves that you don't have to be a multi-millionaire to make a difference. We dive into what she's doing to engage the next generation, the importance of having core values that resonate, and how everyone is capable of making charitable gifts beyond their imagination.
Leading by example
Despite a lucrative career on Wall Street, Arlene's experiences with discrimination, harrassment, and hitting the "glass ceiling" left a lot to be desired. She soon realized that working with the large financial institutions of her past wasn't in line with the values she wanted to have as a financial planner. Inspired by her daughters, she was determined to lead by example and show them that they could be successful, well paid, and have a fulfilling job — all without having to sacrifice their core values. Arlene eventually left her old career, moved across the country, and started working with a career coach who helped her embrace the field she really belonged in: Philanthropy. 
Arlene also opens up about how the powerful experience of planning her mother's end-of-life gifts helped her see the financial happiness and well being that she could help others achieve. As financial advisors, we can help our clients find a larger purpose by showing them how to make charitable gifts and leading by example. By exploring these values with her mother and passing them onto her children, Arlene learned to incorporate philanthropy as a guidepost in her career as a CFP®. Her focus on giving back and being authentic to your values shows just how rewarding it can be to live by this example.
Breaking down barriers
If there's one thing that Arlene learned from her years of experience, it's that most clients don't understand how to make a gift. Many people feel limited in their ability to give because they aren't millionaires. The need to break this barrier to charitable gifting is what led Arlene to write her book, Give to Live: Make a Charitable Gift You Never Imagined, which breaks things down into terms everyone can understand and serves as an easy, practical guide to philanthropy. In her book, Arlene shares invaluable tips on how to effectively and meaningfully include philanthropy in your personal, financial, and estate plans.
Financial planning may be fun, but that doesn't mean breaking down these barriers is an easy task. It takes a lot of hard work to transition and figure out what works. If something doesn't pan out, don't be afraid to start over and try something else. As Arlene said best: sometimes we have to fail our way forward! Her book is a reminder that with enough hard work and information, everyone can learn how to make charitable gifts beyond what they ever thought was possible.
Bridging the generational divide
During our discussion, Arlene brought up some interesting statistics about the generational gaps that show up in financial planning. The shocking reality is that after a client has passed, the majority of heirs fire their financial planner within the first year because the relationship between the advisor and that next generation is nonexistent. Arlene is an advocate for change in this area as she teaches advisors to engage with the heirs of their clients now to build that relationship in a more natural and authentic way, which will make it more likely for the heir to stay on as a client. So how can financial planners use philanthropy to engage with the younger generation?
Arlene answers that question and so much more as she shares how values and life lessons allow financial planners to engage the next generation in a more meaningful way. Although there are differences between the generations, opening up important conversations about values can help to bridge the gap. As financial planners, we should be asking families what their core values so we can understand their passions and pain points. How do they want to make an impact in the world? What causes are they passionate about? Arlene shows that by facilitating these conversations and engaging the next generation with philanthropy, we can turn financial planning into a family experience and create a win-win situation for everyone — the client, the community, and your bottom line.
Creating a legacy
In our discussion, Arlene talked about how to pass down these values and life lessons through vehicles called donor-advised funds. She has some truly amazing ideas about how these funds can help families merge values and money to make changes within their community. They allow us to leave behind a legacy that is all about giving back. Arlene shares how her own family has built their legacy on the benefits of philanthropy, and how giving money to others provides more happiness than spending it on yourself. The great news is that you don't need a lot of money to create a legacy this way. Donor advised funds can be started by almost anyone and used in a family context as a powerful philanthropic tool.
The biggest takeaway from my conversation with Arlene is that authentic financial planning stems from your core values. Whether it be integrity or sustainability, it's our core values that drive investing and financial plans, as well as our charitable giving. Placing an emphasis on philanthropy and charitable giving allows us to know ourselves and our clients in more profound ways, where everyone can make a lasting difference. Arlene's story shows that there's true financial power — and success — to be found in philanthropy.
What You'll Learn:
How to find financial happiness through giving
Why it's important to have open discussions about your values 
The philanthropic impact of the Carnegies and Rockefellers
How to integrate philanthropy into your practice as a CFP
Tips on making charitable gifts that don't break the bank
Why building lasting relationships is key
Embodying your core values to connect with clients
How financial planners can become active in giving back
The generational gap between boomers and millennials
What we can learn from those generational differences
What a donor-advised fund is and how to create one
Why it's okay to fail sometimes and how to try again
What it means to change your financial perspective on giving back
How to bring more fulfillment to your financial planning practice
What F.U.N. means to Arlene
Show Notes:
In this episode of YAFPNW, I talk to Arlene Cogen about:
Want to learn more about Arlene and her philanthropic leadership coaching? You can visit her website or follow her on Twitter @arlenecogen