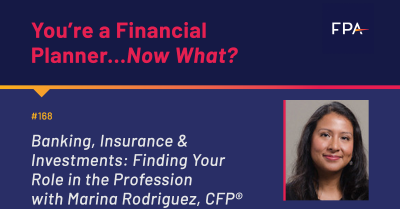 If you've listened to YAFPNW in the past, you hopefully know by now that there is no one "right way" to be a financial planning professional. Our guest on this episode, Marina Rodriguez, CFP®, has seen multiple sides of the profession and has found her own unique role within it. But it took time — and some career shifts.
From Client Services to Financial Planning
After receiving her degree in economics, Marina started her career in a banking environment, where she worked on investments in the Wealth Advisory Group at U.S. Trust. She started on the client servicing side, explaining what investments, stocks, mutual funds, bonds, etc. are and how it all works. She helped clients understand the structures of portfolios and managed more of the administration of those types of accounts. 
Over time, though, Marina started getting involved much more in the portfolio management aspects of it — actually selecting investments based on a client's risk tolerance and managing that money. During this "aggregate" of her experiences, she says, she developed a strong understanding of the investment platform. She began really looking at — and evaluating — the investment philosophy of the client and the team (if there was one). She also began to look at what resources were available, how the investments changed and grew with the market or with the client's focus. She got curious about ideal asset allocations and investment portfolio, and about how different elements like time horizons and risk tolerances played into that. 
This is where she began to explore careers outside of banking, including in insurance and RIAs. She earned her Certified Financial Planner® designation in 2014  and began to apply what she learned, both in banking and in her CFP® program, to how she worked with teams and advised her clients.
Finding Her Sweet Spot in the Profession
While Marina moved from the banking space to insurance to RIA, she began to really embrace and explore in the intricacies of the investment structure, as well as the dynamics of teams and investment professionals. 
Marina said that, over time, she learned everything in financial planning is a balancing act. Planner professionals need to be as informed as possible about the current state of the market and their clients' needs, and be able to plan for change. "As a financial planner, you get statements from investments, from insurance policies. You get all of their personal information. And it's looking all of that and being able to, A: understand what you're looking at, and B: being able to extract possible issues or pitfalls, and to assess the risk." From there, she says, it's about figuring out how to solve for that, and to reduce the risk to the client's wealth.
Back to Banking
After about two years of working behind the scenes in an insurance and investment planning capacity, Marina felt like she was really learning the ins and outs of the planning process… but it wasn't what she wanted to be doing. She was operating behind the scenes, creating some really great and well-advised plans, but what she felt she really brought to the table was that client-facing capacity she learned in banking. She was able to explain things and deliver that message in a way the client could understand, and she really wanted to return to that. So she did.
Today, she is back in the banking sector, where all of her experiences and education has allowed her to fully embrace her client-facing support role. Now, she develops comprehensive financial plans that integrate investment, insurance, retirement, tax and estate planning solutions. 
The big takeaway from her story? While she doesn't work in a traditional financial planning firm, Marina shows all of us that the profession can take many forms… you just have to look.
What She Wants to Accomplish in Her Career
With her extensive experience and exploration of the profession, Marina will undoubtedly make an impact on the profession and her clients. Her goal in her career, she says, is to be able to both educate and help as many people as she can. To do this, she wants to help people start thinking about their long-term wealth and security as early as possible. She adds that, for herself and others in the profession, it's about putting ourselves in a position to help and educate as many people as possible — and not just those people who have a high net worth. 
"I think financial education, financial literacy is important for everyone, not just for the wealthy." And we can all agree on that, right?
What Marina Wants Other Professionals to Know
Marina has three bits of advice for financial planning professionals, which she expands on the episode: 
Talk to experienced professionals about their path, why they do what they do, what their experiences are, etc. 
Build a network. Have people who you've connected with and who can help you find the answers to your important questions. The sooner you can start building on that, the better.
Stay educated. Things are constantly changing, so you have to be prepared to put in the work.
If you want to learn more about why Marina got started in the financial planning profession and her experiences in banking, insurance, investments, check out the full episode. Her story reminds all of us that it doesn't matter if your career is a straight path or a winding one — all roads lead to Rome.
What You'll Learn:
Marina's background and what got her started in the financial world
Her experience on the banking side of investments and what she learned
How investment and portfolio structure led Marina to her CFP®
Different roles a financial planner can fill in banking, insurance, RIAs, and RAAs
The many factors that play into a financial plan
How the dynamics of a team or firm can impact a client's plan
The difference between client-facing skills vs. behind-the scene planning skills 
Why education and financial literacy are important for everyone
What Marina wants new financial planners to know
Show Notes:
In this interview with Marina Rodriguez, we cover some terms you may be unfamiliar with:
RAA: retained asset account. This is a temporary repository of funds.
RIA: registered investment advisor. This is a person or firm who advises high-net-worth individuals on investments and manages their portfolios