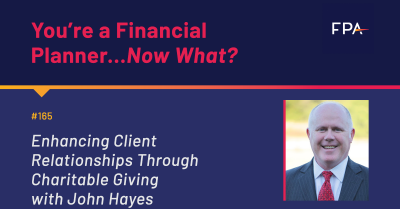 John Hayes, the Senior Vice President of Charitable Estate Planning at the American Heart Association, made an appearance on YAFPNW this week. When people think of Certified Financial Planner™ professionals, they often think of directly working with clients, but our conversation with John opens up all-new doors for planners and other financial professionals. In this episode, John also talks about how CFPs and larger organizations like the American Heart Association are working together more and more to make an impact on the state of charitable giving.
In this episode, we talk about changing trends in charitable giving, the role financial advisors play in their clients' giving, and how personal and organizational philanthropy has changed over the past decade. We also talk to John about his journey to the charitable estate planning world, which wasn't a direct path (none of them ever are). 
A new career in a new sector
John started out as a business finance major and, after connecting with a friend who worked at the Salvation Army, more or less stumbled into the world of planned giving. He found out the Salvation Army was hiring for a "Planned Giving Director" and, even though he had no idea what that meant, he asked anyways. Before he knew it, he was hired for the job. Like most of us when we first start out, John said he had no idea what he was doing. Thus began his career in planned giving, starting off at the Salvation Army in the early 90s. 
By 2004, he was hired on at the American Heart Association and took over the entire "Mission Advancement Department" for the organization in 2010. Today, John works with nearly 130 office directors around the county who align donors, volunteers, and board members with the American Heart Association's mission of planned giving. With his department, John and the other directors are on the frontlines, working with volunteers and financial planners, wealth advisors, tax attorneys, and more who all play an important role in enabling people and companies to give back in big ways.
Connecting with financial professionals (and donors)
A key part of his work with the American Heart Association is directing teams who offer support to financial planning professionals, attorneys, wealth advisors, and more. While the organization runs on donations, John and his large team know that these professionals play a big role in facilitating their clients' donations and planned giving. Rather than expecting planners, lawyers, or other entities to single-handedly create and execute on these planned gifts, the AHA Mission Advancement Department really makes it their duty to connect with professionals to help them provide value to their clients — without adding a ton of work to their plate. 
This relationship ensures that philanthropic individuals can support causes and organizations that are important to them, that planning and legal teams can support those interests, and that (eventually) the nonprofits and causes will receive their planned gifts. It's a mutually beneficial relationship that John and his department have spent a lot of time on. Today, the department offers a number of resources for planning and legal professionals, including the Professional Advisor Network and the Advisor Referral Program. Both of these are designed to provide resources that support charitable giving, and to strengthen the connections between the donor, the charity, and the recipient. 
Donor-Advised Funds on the Rise
There was another major theme to our chat with John: donor-advised funds. Because DAFs allow clients to commit a lump sum of money to their charitable giving goals, it meets multiple needs: tax deductions, ease of setup, and professional management. Instead of wondering how to choose multiple charities or causes to donate to — and how to get those payments out — clients can work with their financial planners (or charitable giving experts like John) to determine how much they want to commit, open a fund, and go. And with the right person, clients won't need to go through a third-party management service; it can all be done through their planner. 
John mentioned that donor-advised funds have exploded in popularity, with billions of dollars allocated currently. They're something to consider for clients who are ready to set aside that money but don't know what to do with it quite yet, and on the professional's side, they're simple to set up and manage. He also shared some really uplifting stories about clients who manage their donor-advised fund as a family. 
Next Generation's Focus on Charitable Giving
More than anything, we talked about how charitable giving has been on the rise since the early 2000s, and how more and more people have monthly, yearly, and legacy contributions that prove just how important giving back is. There's also a rising trend among the Millennial generation, which offers a great opportunity for next-generation planners to offer a service that is important to their future clients.
We also discuss how, as financial planning professionals, it's possible to support your philanthropic clients through value-added services like charitable gift planning. Designations like the Chartered Advisor in Philanthropy are also becoming more and more common — and sought after in the charitable giving space. Charities and nonprofits like the American Heart Association have plenty of resources to support you as you do this, and there are plenty of opportunities for planners to develop a career built around this amazing work.
If you're wondering how to support your clients as they plan for charitable gifts, or you want to know how to find resources about planned giving, this is a great episode to check out. John's insights into the charitable world are invaluable, as are the American Heart Association's resources.
What You'll Learn:
CFP®s, CAPs, and the future of charitable gift planning
What has changed in philanthropy and planned giving since the mid-2000s
How to have a conversation about charitable giving with clients
Misconceptions about generational giving differences
The focus on community giving and its "ripple effects" to broader global issues
Best practices for notifying nonprofits and charitables of a planned gift
The value of "buffered" engagement after a client decides to contribute to a charity
The partnership between charities and financial planning professionals 
Why donor-advised funds can be a fantastic asset for clients
Show Notes:
In this episode, John Hayes, Senior Vice President of Charitable Estate Planning at the American Heart Association, discusses: