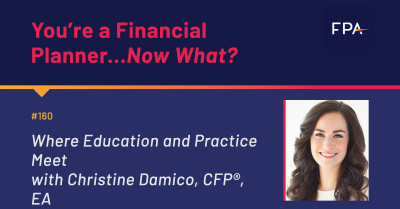 Christine Damico, CFP®, EA, was one of the first to participate in a residency program, and has now successfully started a new residency program at her firm. In her many years teaching at Virginia Tech, and now through her residency program at Olio Financial Planning, Christine has developed a clear idea of how focused education and residency programs can impact NexGen planners - and the profession as a whole.
Many new planners look for a full-time planning job immediately after graduating from a financial planning program. However, in this episode, Christine makes the case for why newly graduated planners might benefit from a rigorous financial planning residency program. 
Residency programs provide hands-on, real-world experience to new planners that will benefit them for the rest of their career. These programs also help to set new planners up for success by guiding them through the different roles they could pursue within the financial planning profession. Christine's goal with her residency program is to not just prepare new planners to be better financial planners, but to help them learn how to be a business owner in the future if that's a path they choose.
Christine is a teacher of the profession and trailblazer of her firm. In this episode, she digs deep, and explores the importance of residency programs for the development of new planners, the furthering of the profession, and the continuing of career paths.
What You'll Learn:
Why it's so important to support and start residency firms in the financial planning profession
How Christine started a residency program, and teaches while working as a full-time financial planner
The benefits that NexGen can receive from a residency program
How residency programs help planners apply textbook knowledge and gain real-world experience
Ways that a residency program can teach new planners about running a business, showing empathy with clients, and more
How you can find a residency program as a new grad
How you can support or start a residency program as a planner or business owner