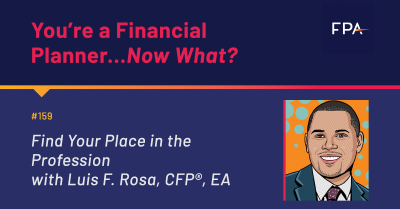 Luis F. Rosa, CFP®, EA, spoke at NexGen Gathering about his career path within financial planning, diversity in the financial planning profession, and how the next generation of planners can find their own place in this profession - even if it doesn't exist yet. 
As a firm owner, Luis spends a notable amount of time involving himself in the profession. He firmly believes that, in order to positively impact his clients - and the profession as a whole, it's important to be involved as a mentor. He's involved as a mentor through NexGen, attends conferences frequently, and also focuses on one-on-one, informal mentorship of new planners. 
Luis is passionate about focusing on building up the next generation and he loves to participate in focused mentorship of potential new minority planners. He also encourages other planners and work to continue building the profession.
In this episode, Luis shares importance of mentorship, how to define your place within the profession as a new planner, and how you can find a home within financial planning. You won't want to miss this!
What You'll Learn:
How to decide what role you want to play as a financial planner
Ways you can develop yourself as a new planner
How to encourage more minority individuals to join the profession
Different ways the financial planning profession will evolve over the next several years
The importance of supporting one another
The benefits of mentorship
How reverse mentorship can benefit existing advisors and firm owners