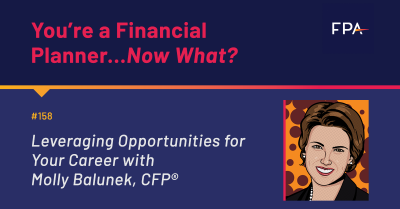 Molly Balunek, CFP®, an FPA board member, takes us on her journey from finding financial planning, working for  a small firm and eventually finding the confidence to start her own practice, Laurel Tree Advisors. She learned a lot from the process of developing as a CFP® professional and in this episode she gives action items for financial planners to take when they're looking to be the best CFP® professional - whether they want to develop a career track at their firm or eventually start their own business.
Over the years, Molly has not only grown her financial planning practice, she's also found ways to dig deeper and focus on making an impact on the profession as a whole. She's specifically focused on helping FPA grow, and support new financial planners. Molly remembers how much value FPA brought to her life and her practice when she was first launching, and she wants to ensure that she's giving back and helping to build the next generation of financial planners.
After watching several of her colleagues go through the succession planning process, she's grown her passion for building a continuity plan in her own practice. For her, it's about providing continuity and an exceptional experience for her clients. She understands that, part of being an exceptional financial planner, is helping to build out the future of the profession to further support her clients beyond her own retirement. 
This episode is perfect for next-generation financial planners who are looking to level up in their own career, and to have an impact on the financial planning profession.
What You'll Learn:
How to show up when you're launching your own practice
Ways to leverage networking opportunities to grow
How to grow yourself and the profession
What coaching next generation planners looks like
How to grow your practice by growing as a planner in the profession
The importance of developing next generation planners
How the future of the profession is essential for optimal client relationships within your firm