In this episode, I sit down with Nathan Harness from Texas A&M's financial planning program, and Kate Healy from TD Ameritrade Institutional at this year's NexGen Gathering.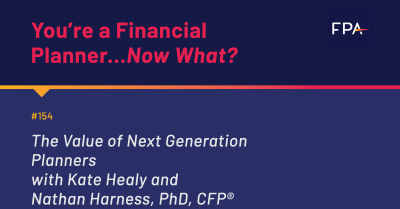 Kate Healy is an advocate for the next generation of financial planners, and has focused on developing initiatives that educate the profession on the importance of hiring, and supporting the growth of new planners. Nathan Harness is the TD Ameritrade Director of Financial Planning, and a financial planning professor at Texas A&M.
Kate and Nathan dive into the value of the next generation of planners, how they're helping to level up the financial planning profession, and ways they can find success within financial planning. Together, they explore the value the next generation of financial planners brings, and how they plug into the financial planning profession's landscape.
Nathan makes some excellent points about the overall value proposition of a firm. When every planner in the firm is working toward the same set of values and goals, they're able to communicate clearly to clients. Too often, seasoned firm owners and planners view everyone's value proposition within the firm as incredibly individual.
This is especially true for how they view their new planners. They may not be sure how a new planner fits into the culture of their firm, and this problem can be solved by understanding that, while everyone brings an individual value to the practice, together your value for clients is unified. Nathan also discusses how new planners can develop their own unique value in a practice by continuing their education, connecting with colleagues, and elevating the others around them.
Kate explores how existing planners can develop and support the next generation of financial planners, but also how next-generation planners can start to develop themselves. She walks through how new planners can do the self-work to discover their own value proposition, what they bring to the table at their firm, and why they feel passionate about the financial planning profession. Taking the time to find your "why" and do some critical self-assessments can be a game-changer, and it's something that will continue to help new planners add value to the profession.
Together, Kate and Nathan also discuss the value of the NexGen Gathering conference. Being able to join together with like minded new planners to share experiences, and help one another grow is incredibly valuable.
This episode is a must-listen for next-generation planners and seasoned professionals alike. Tune in to hear some incredible insights from two rockstars and educators in the financial planning profession!
What You'll Learn:
The importance of holistic planning v. specialization
How next generation planners can provide more longevity for your firm and higher value for clients
How to articulate your value as a new financial planner
The value of financial planning for clients