When Shawn Tydlaska founded Ballast Point Financial Planning, he didn't have plans of expanding and having to hire. In this episode, Shawn and his associate planner, Liz Plot, discuss hiring and getting hired at a small financial planning practice.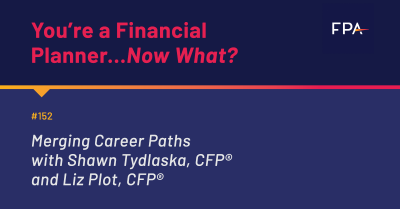 On today's episode, Shawn Tydlaska, CFP® and Liz Plot, CFP®, ChFC®, AFC®, share their differing career stories and how Liz ended up working for Shawn. Shawn founded Ballast Point Financial Planning after working in a corporate environment and having a desire to help more people with their personal finance. After three years in the business, Shawn shares what he's learned in this process and his tips to helping other firm owners grow and expand, specifically as it relates to hiring and training staff.
Liz Plot worked as a financial counselor, specifically for a non-profit for service members before she started working for Shawn. In the process, she developed skills that were applicable to working with Shawn's clients and helped develop her as a planner. In replying to a job offer, Liz found a fit for her that allowed her to continue doing the work she wanted to do.
Liz and Shawn started on a 30-day trial basis to see if they were a good fit for one another, and immediately clicked. Now, Shawn and Liz have teamed up to keep leveling up their current client experience while growing Ballast Point Financial Planning to new heights.
Don't miss this episode where Shawn and Liz talk about hiring and getting hired at a small financial planning firm. They also share their tips to help you create a smooth hiring process!
What You'll Learn:
How you can grow and scale a firm - even if your venture into entrepreneurship is accidental
Ways to scale while staying true to your mission
How to coordinate with new hires
How to grow a new hire's role within your firm
How to hire successfully