For episode #151, Jude Boudreaux, CFP®, and Autumn Campbell, CFP®, sit down with host Ian Harvey, CFP®, to talk about their hiring experience. Jude was looking for a planner who was ready to start sitting in on client meetings almost immediately.  Autumn was looking for an opportunity that had more upward mobility, and more flexibility than her current position.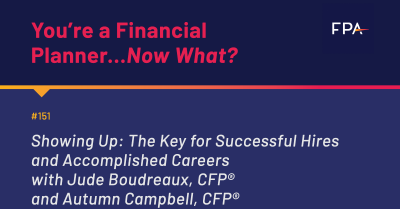 They had a few initial meetings and felt confident that they were indeed a fit, but moved through the Kolbe Assessment together to determine what their individual skill sets were, and whether they were complementary. Jude found that he was a high quick-start and had many ideas for business development. Autumn had a high score in the follow-through categories of the Kolbe Assessment, and was originally concerned that her skillset was too "lopsided", and was nervous to submit them to Jude during the hiring process.
However, after discussing it together, it was clear that their opposite skillsets would be a great fit for not only generating ideas, but following through and executing them. Throughout the hiring process, Autumn and Jude have focused on having open lines of communication. Jude learned mentorship skills throughout the process of hiring Autumn, and was conscious about setting her up for success from the moment she joined the team.
In this episode, Autumn and Jude share their experiences from both sides of the hiring process, and how other advisors can successfully grow their teams in their own practices. Stay tuned for the tips and tricks that made their working relationship successful from the get-go, and the mistakes that many advisors fall into when hiring that can hurt the career progression of their new hire as well as the success of their firm.
What You'll Learn:
What pushes advisors to hire
What someone interviewing for a position needs to know
How to hire successfully
How to find the right fit when looking for a job
What to look for in a new hire
How to create a smooth-sailing hiring process
How to leverage the Kolbe index when hiring
Why you should look for a new hire who's both compatible, but also compliments your strengths by bringing different strengths to the table
How to learn the skills to become an exceptional mentor
Ways you can prepare to handle the challenges that come with managing a larger team
How to grow a career path for your new hire