In this episode, you'll hear about what spurred Jean and Eric Mote to pursue a merger and build out a succession plan with fellow advisor Quinn Arnold, and how these three advisors combined their practices while still providing exceptional client services.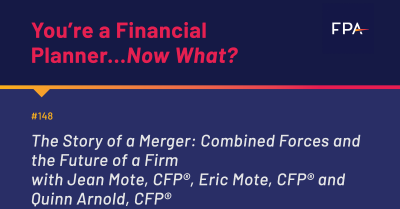 Quinn Arnold, and Jean and Eric Mote recently merged their financial planning practices in Cedar Rapids, Iowa. Jean and Eric knew that they wanted to start building a succession plan for their business, but were apprehensive to partner with just any financial planner. They wanted to make sure that they found an advisor who was the right fit - who had the same values, and who followed the same financial planning practice
Ultimately, Jean and Eric approached Quinn, another advisor in the Cedar Rapids area. They had outsourced planning work to Quinn in the past and through conversations and networking knew that they'd be comfortable working alongside him in caring for their clients until they chose to retire.
Jean, Eric, and Quinn leveraged services from FP Transitions for their merger. FP Transitions helped them move through the merger seamlessly, and think through everything that each of their businesses would require as they combined forces. They also chose to work with a coach for a short period of time to align their vision.
Between the three of them, they had to work through the merger process, which included everything from merging AUM and planning clients, to navigating different planning software that each practice had used individually. Right off the bat, this team had to make some big decisions - but they didn't view that as a downside. In fact, they felt like the merger provided them each with an opportunity to look for the most efficient way to serve their clients and run their new, combined firm.
What You'll Learn:
What a firm merger could look like for you as an advisor
How to pursue merging with another firm as an advisor
Why you might be interested in merging firms
How to merge your firms effectively while still prioritizing client relationships
How to respond when a client asks about the future of your business
The importance of building a succession plan in your business
The Little Book of Common Sense Investing by John Bogel