In this episode, Kayla Kennelly shares her experience launching a reverse mentoring program, adopting schools to teach financial literacy, and joining an innovative business model to challenge the way financial planning is being delivered to the masses!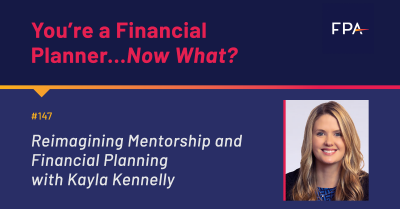 Kayla Kennelly is the Director of Advisor Partnerships at Facet Wealth and she is helping shape the future of financial planning for those who have traditionally been underserved by the financial planning profession.
Of course, Kayla has already made waves in the financial planning world! She started her career at Pershing and excelled in her role there. Kayla helped launch a reverse mentoring program at Pershing, which paired senior executives with Millennials with the purpose of leveraging Millennial talent at the firm to create the firm that they would want to work for in the future.
Through Kayla's reverse mentoring experience, Kayla and her then mentor Mark Tibergien found a shared passion for financial literacy. Mark, the CEO of Pershing Advisor Solutions, had adopted the school he grew up in and personally funded a financial literacy program there. Kayla took Mark's idea and created a program to help advisors bring financial literacy to other schools they adopt.
When Kayla met Anders Jones the Facet Wealth CEO and "could not stop thinking" about their vision and mission. Now Kayla is a part of their team and in today's episode you'll hear how Facet Wealth's innovative business model is changing the way financial planning is being delivered to the masses. She shares her own personal experience of going through a financial plan as well as her friends who are now clients.
What You'll Learn:
Importance of internships
What reverse mentoring is
How reverse mentoring works
How millennials can make an impact in their firm through reverse mentoring
How to make a difference in your firm
How to leverage your relationships with senior leadership to create a reverse-mentoring program
The importance of financial literacy
How to serve underserved markets by leading with financial planning
New financial planning business models for serving the mass market