In this round table, our group of four paraplanners share their insights and what they have learned about financial planning having worked with multiple different firms. Don't miss their fantastic insights into financial planning firms!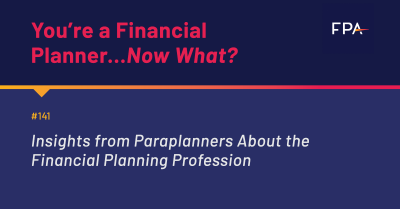 Paraplanners are in a unique position to gain valuable insights into how a wide range of financial planners run their firms. This round table features several paraplanners and operation consultants:
These four individuals each bring their unique background and experiences within a wide range of firms to the table. Some of them work exclusively with solo shops, and others work with large practices that have multiple advisors, but all are focused on financial planning.
In this discussion, these four entrepreneurs are going over what they've seen work in a financial planning practice, and what's been challenging for the planners they've worked with. We're covering everything from the importance of niches in financial planning, to what types of deliverables are most successful from a client perspective, to how life planning is impacting the lives of clients (and planners!).
If you've ever wondered about how you can grow your business, or whether you're making the "right" moves in your practice, this episode is a great listen. This round table is valuable for both firm owners, aspiring firm owners, and paraplanners who want to learn more about financial planning processes and more.
What You'll Learn:
The importance of working with clients you're passionate about
How financial life planning positively impacts clients and advisors
What types of processes work best in a practice
How to leverage outsourcing to balance your practice's growth
Ways to add additional client touch points that are actually meaningful
How technology can be used to grow your practice
How paraplanners can interact with planners to grow their own businesses and help their clients grow theirs
How to build trust with a virtual team
What types of qualifications advisors should look for in a paraplanner
Different ways that mindset impacts financial planners and their practices