Krista Sheets and Sarah Dale from FPA's Coach's Corner are here on this week's episode of #YAFPNW to talk about how to combat a dysfunctional workplace and build a people-focused team.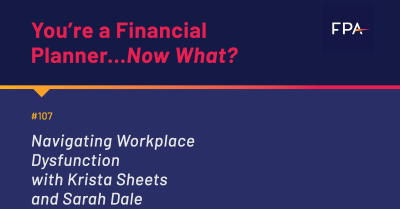 After experiencing dysfunctional workplaces throughout their career, Krista Sheets and Sarah Dale partnered to build Performance Insights. Together, they focus on helping financial planners increase results through practice management and people-focused decisions.
There are so many unhealthy work environments within the financial planning profession, and both Krista and Sarah agree that this largely is a result of poor communication. As a result, they help the planners they work with on developing well-structured team communication plans, amplifying everyone's voice on a financial planning team, and creating an environment that fosters positive communication. Krista and Sarah discuss the importance of understanding team members and using various personality tests to identify strengths and what motivates each person on a team.
In this episode, Krista and Sarah are going to be discussing how to spot warning signs of a dysfunctional workplace, the best way to communicate efficiently, and how focusing on team development can lead to a more successful career in the financial planning profession.
What You'll Learn:
What creates workplace dysfunction
How to make people-focused workplace decisions
The best way that young planners can help their practice build a functional, healthy work space
How to effectively communicate to avoid dysfunction
Why words matter
How to communicate questions, challenges, and frustrations
Best practices to identify warning signs of a dysfunctional team
Why much of our dysfunction never gets addressed
How each individual can focus on their strengths and personality traits to contribute to their team effectively
Why team building matters for financial planners in our "people focused" profession
How to create a healthy succession plan
The best way to define roles in your practice and amongst your team
Why focusing on people is often a better investment than focusing on the numbers