LIVE at FPA Retreat 2018, we're sitting down with a few of the industry's most influential leaders to talk about the past, present, and future of the financial planning profession.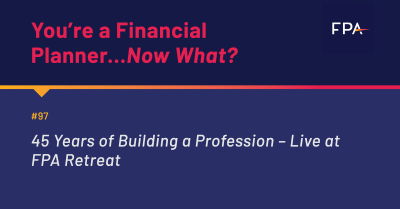 Today's episode was one of the keynote sessions at FPA Retreat 2018 and in this session Jack Blankinship, Ben Coombs, Charlie Hughes, and Lew Walker came together to discuss the topic: 45 Years of Building a Profession. These industry leaders walk us through what financial planning looked like many years ago, the changes they've seen, and what they've learned as a result.
2018 marks the 45th anniversary of the CFP marks and our profession has come a long way in that time. We are encouraged that this profession will continue to grow and evolve, and that you are all a part of it. Together, we need to know we've been to understand where we can go! So, here at #YAFPNW, we are excited to bring you several more episodes throughout 2018 on the topic of our shared history - as told by the planning professionals who where there!
I hope you enjoy!
What You'll Learn:
How "the movement" started 45 years ago to provide true financial planning to clients.
How the term "fiduciary" came to be - and what industry leaders did to push for that kind of clarification among financial professionals.
How leadership builds leadership - and how that helps us grow.
The importance of embracing change in our profession.
What people experienced while building this profession from scratch.
How we can continue to search for answers in our push to serve clients better, grow our profession, and become better advisors