Stephen Brody, CFP®, believes that financial planning is about digging deeper to move beyond the numbers and help clients put forward the lives they want to live. Through intentional leadership, he's built a financial life planning practice - and wants you to know that you can do the same.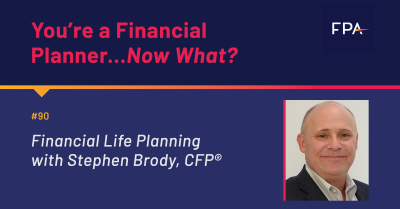 This week on the #YAFPNW podcast, our guest Stephen Brody, CFP®, discusses how financial life planning is about planning beyond the numbers and leading clients to grow as people. After going through the Kinder Institute as a registered life planner, Stephen ventured out on his own to create a guided and intentional financial life planning process that reflected his values and was designed to grow both himself and his financial planning clients.
Stephen truly believes that financial planning is more than a numbers-driven practice. He focuses on marrying the reality of money with the helping people move forward with the lives they want to live - which is something we could all use to focus on in our own practices!
What You'll Learn:
Resources and training to look for in the financial life planning industry.
How to implement intentional leadership in your own practice.
How we can lead clients based on our own experiences.
Why it's important to reframe our planning process to reflect purpose and the values of our clients.
GreenLeaf Center for Servant Leadership