Rick Kahler believes that financial planners, like himself, can facilitate financial health with their clients by embracing their behavior, helping them uncover their money mindsets, and listening to their stories and goals.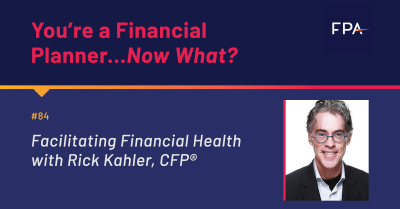 Rick Kahler knew he had to do more to differentiate himself as an advisor and started to explore financial therapy. He's constantly amazed by how little numbers mean at the end of the day with research showing 90% of financial decisions are emotional decisions. Instead, Rick prefers to focus on being with his clients.
He knows that the majority of their money decisions won't be driven by the numbers - they are driven by emotions. Rick knows that 80% of all client engagements are what can't be replaced by robo-advisors - listening to your client, stepping into their shoes, and being empathetic.
In this incredibly revelatory episode of #YAFPNW, Rick explores how we as advisors can relate to our clients on a deeper level by simply being with them, and how that helps us build a financial plan that motivates them to stay on track, change negative money habits, and more.

This episode will be sure to expand your skills as an advisor and explore ways that you can align yourself with your clients in a deeper, more authentic way.
What You'll Learn:
How to facilitate behavioral change with your clients.
How to listen well to your clients.
How to approach financial planning using psychology to better understand motivators, conversational tactics, and more.
The best ways to dive deeper in your initial onboarding process to truly know your client and bring more value to their lives.
How to keep a beginner's mind
What money scripts are and how to work with our client's money scripts
How to recognize our own money scripts and the impact it has on our relationships with clients
What financial therapy is and where to go to find more resources
How to facilitate financial health with your clients
The Nazrudin Project – Bending the Profession Since 1995 by Richard Vodra, JD
Kahler Financial Group, Inc.'s Financial Planning Residency Program
How Clients' Money Scripts Predict Their Financial Behaviors
Wired for Wealth by Brad Klontz,‎ Ted Klontz,‎ and Rick Kahler
Golden Gate University - Programs in Financial Planning
Financial Planning 3.0 by Dick Wagner
Parent Effectiveness Training by Thomas Gordon
Kansas State University - Financial Therapy Certificate
Creighton University - Finance
Become a Certified Financial Transitionist®
The Kinder Institute of Life Planning - EVOKE® 5-DAY LIFE PLANNING TRAINING