Andrew Sivertsen offers insight to young planners on how they can develop a career path, and how to consistently better themselves and focus on adding value to the lives of their clients.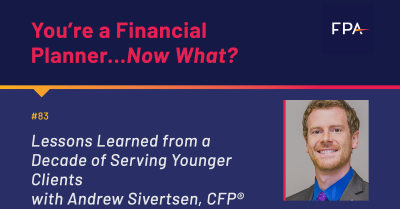 Andrew Siversten is passionate about working with younger clients - and he's built his role within The Planning Center to reflect that. Siversten originally started working part time at The Planning Center in 2007, and over the next several years his role began to evolve from analyst to a more involved, senior member of the planning team. Today, Siversten is a partner and senior planner at The Planning Center.
In the ten years Siversten has been with them, The Planning Center has effectively doubled. They now have six offices around the United States, and have grown largely through merger and acquisition.
Siversten has played a large role in evolving The Planning Center's approach to residency programs and building a career path within their firm. In this episode, Siversten explores The Planning Center's career path process for developing young planners, how he's advocating to work more with young professionals within the firm, and how being part of a constantly growing financial planning practice brings positive change and opportunities into your life as a financial planner.