Part two of our #YAFPNW series with Leighann Miko delves into what it's like to launch your own RIA and how to ride the roller coaster of entrepreneurship.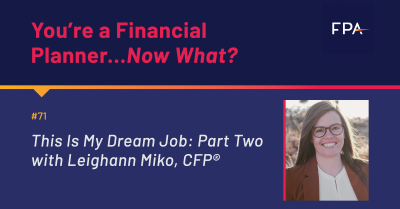 Leighann Miko launched her firm, Equalis Financial, about a year ago. Since then, she's had tremendous success. Leighann has been named one of Investment News's 40 Under 40, and works to promote diversity within the financial planning industry through her role as an FPA member.
In the final part of this two-part series, we talk about some of the struggles that Leighann has encountered more recently in her career. In spite of the challenges she's faced, they ultimately led to her launching Equalis Financial.
We love that Leighann is totally open about her experiences - she has so much wisdom to offer new CFP®s!
What You'll Learn:
The struggles Leighann faced when starting her own RIA.
How to care for yourself as an entrepreneur.
How to embrace the roller coaster that is owning your own practice.