Don't miss part one of our two-part series with Leighann Miko, CFP®! In this episode we consider the variety of different options young CFP® Pros can consider for their career - and how their values need to factor into their decision.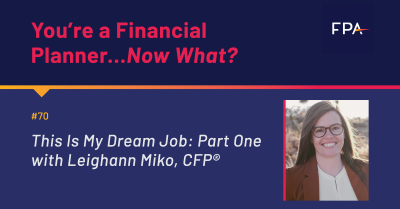 Leighann Miko launched her firm, Equalis Financial, about a year ago. Since then, she's had tremendous success. Leighann has been named one of Investment News's 40 Under 40, and works to promote diversity within the financial planning industry through her role as an FPA member.
In part one of this two-part series, Leighann Miko chats with us about the start of her career. We cover everything from the moment she realized she wanted to be a CFP®, to the difficult conversations she chooses to have with clients now after going through the market crash in 2007-2008 as an advisor.
What You'll Learn:
How Leighann used her experiences to hone in on the career she truly wanted.
Different options that are available for new CFP® Pros starting their career.
What kinds of difficult conversations you learn to have with clients as a result of your experiences.
How to embrace who you are when finding your ideal role.