This week on #YAFPNW we chat with Amy Irvine on about approaching your target market, how to have meaningful conversations with your clients (even when it's uncomfortable), and more.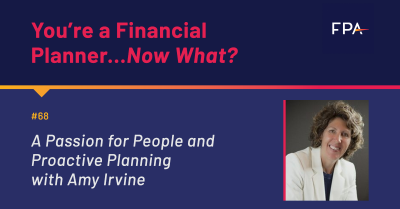 We are so excited to have Amy Irvine on the #YAFPNW podcast this week. We discuss how financial planning is about more than investment advice and number-tracking. Financial planners are helping people build lives that are meaningful to them and that feed their soul.
Amy opens up about what her ideal client looks like, how she found her way to her current role as a financial planner, and what we can do to promote an environment of learning in the profession.
Things You'll Learn in This Episode:
How different roles in the financial planning profession can impact your career.
How to have meaningful conversations with your clients about their lives - and how to use that information to help them plan their financial lives.
Why education is so important - for you and your financial planning clients.
How to approach your target market.