This week we have the audio from the February 16th FPA DFW YAFPNW seminar. Last Thursday's seminar was lead by Hannah Moore from GWM and Casey Kupper from Cadent Capital.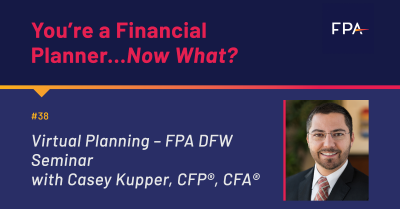 Casey Kupper, CFP® joins Hannah Moore, CFP® for the February FPA DFW You're a Financial Planner Now What Seminar Series. Casey and Hannah discuss how Virtual Planning is being used now and how it will impact the profession.
"The emotional intelligence.. I haven't been to any conference where that has been talked about in the virtual world. Certainly that is a place that will get attention in the coming years."
Thanks to everyone that came out and many thanks to the kind folks at Cadent Capital for hosting us!
Lauren Greutman | Helping you enjoy life on a budget
THE VIRTUAL ADVISOR By XY Planning Network
Bob Veres - Inside Information
The CFP Board Spring 2017 Public Awareness Campaign Ads
RightCapital: Financial Planning Software
Kitces.com - Advancing Knowledge in Financial Planning
YAFPNW - Behind the Scenes Look at the DOL Fiduciary Ruling with Ed Gjertsen II