Hannah Moore, CFP®, hosts a "giving back" panel with Kurt Kaczor, Director of Pro Bono at FPA; Robinson Crawford, CFP®; Alex Wilson, CFP®, FPA of GA NexGen Director; and Kyle Eaton, CFP®. They discuss how they got involved in pro bono work, what they've learned, and how you can start giving back.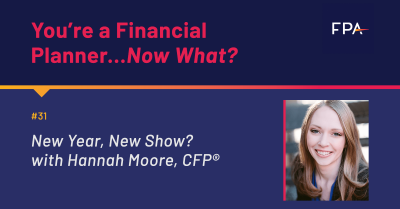 Hannah Moore, CFP® and owner of Guiding Wealth goes from the interviewer to the interviewee. Charlie Moore, the person responsible for the weekly editing steps out and is the one to interview me. Hear how I got started as a financial planner, my tips on becoming a professional and thoughts on succession planning.
We enjoyed making this episode and hope you really enjoy it too!
An Expert's Guide To Starting 2017 On Solid Financial Footing