< Friday, October 1, 2021 > Austin Country Club
Career Day is a day of networking and interviews. We connect employers with potential employees looking for full-time and part-time positions as well as internships.
Schedule of Events
8:30 am: Career Day Opens - networking
9:00 am - 11:30 am: Career Day Interviews
11:30 am - 1:15 pm: FPA Austin Chapter Lunch Meeting
1:30 - 3:30 pm: Career Day Interviews
3:30 pm: Career Day concludes
Employers and Sponsor Packages
REGISTER HERE Deadline: Tuesday, September 14, 2021
Interviewer: Represent your company with a table located within the interview space and get ready to meet up to 13 prospective candidates.
Sponsor: Represent your company with a table prominently located at the center of the event! Strike up ad-hoc conversations with candidates and professionals.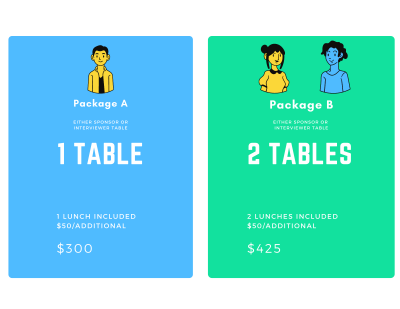 Candidates
REGISTER HERE  Deadline: September 19th, 2021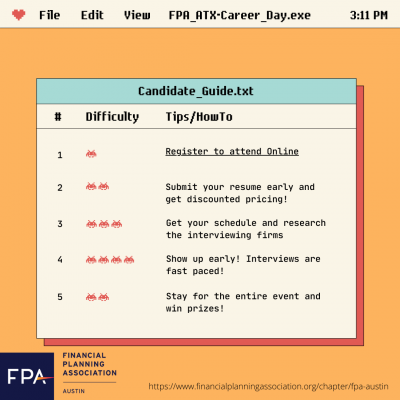 Questions about Career Day? Contact us at careerday@austinfpa.org
IMPORTANT NOTICE
The FPA Austin Career Development Committee highly values the integrity of the Career Day process and its participants. The Career Development Committee does not match resumes with participating firms. We provide a centralized location for firms to interview potential candidates. Participating firms and candidates are subject to change. If a participating firm contacts interviewees prior to Career Day, they will automatically forfeit their interviewing times for the entire day. Likewise, if an interviewing candidate contacts an interviewing firm prior to Career Day, that interviewee will forfeit all of their scheduled interviews and no refunds will be issued.