The COVID-19 pandemic has brought about challenges for you, your employees and your clients alike.
In a recent call in FPA's Planner-to-Planner conversation series powered by TD Ameritrade Institutional and Vanguard, host Elizabeth Jetton, M.Ed., CFP®, led a discussion among thought leaders on how they've been and plan to take care of their community of clients and employees—financially, mentally and physically.
Discussing Health as Risk Management
Deemed the Sanjay Gupta of FPA by his peers, Guy Cumbie, CFP®, CIMA®, RLP®, said he primarily focuses on dialoguing about health with clients as part of risk management.
"In our practice, we spend a significant amount of energy around risk management around the human capital area," Cumbie said. "That is suddenly looming quite large in this new corona world we find ourselves in."
Human capital, or health and financial capital, are interrelated, Cumbie said.
"The financial capital dimension loses a lot of meaning when the human capital goes away," Cumbie said.
Cumbie and his team have spent a lot of time helping their clients understand exactly what is going on by breaking down the science of how the virus is transmitted, how to stay safe and sharing graphics and articles from trusted sources.
They also tailor the information to clients, who are from all ages and stages in life, and share safety practices with clients.
Dealing with Uncertainty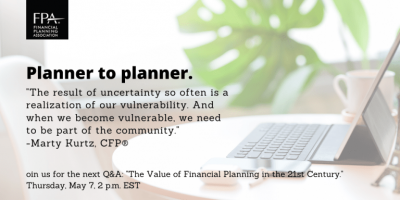 Marty Kurtz, CFP®, has been hearing a lot of buzz words lately that are especially pertinent. Namely "We're all in this together."
"I hear that on the news at night, I hear it in the morning on the news," Kurtz said. "What I want to start to talk about is what does that mean, we're all in this together?"
He thinks it has to do with building up your business communities to handle uncertainty—including your clients, business partners, employees, vendors—and how to do that.
"Living in uncertainty does create a need inside the community that I think we need to recognize," Kurtz said. "Because the result of uncertainty so often is a realization of our vulnerability. And when we become vulnerable, we need to be part of the community."
Across his various offices, the firm has implemented monthly circle meetings to help employees deal with this uncertainty where they have a virtual call and discuss a pressing topic or things on people's minds.
"What always surprises me is it's the people who really don't have the power to speak up who say, 'We really like this. We have a voice. We listen and we can be heard,'" Kurtz noted. "In this time of uncertainty and vulnerability, I think it's so important that we start to appreciate things that we can put into place that will sustain ourselves and our staff for God knows what in the future."
The Profession's Role in Helping Communities of Color
Saundra Davis, APFC®, FBS®, posed the question to the community regarding what role planning as a helping profession plays in helping communities of color that are hit harder by the pandemic.
"The main thing we're seeing is people who are already disenfranchised—low-income folks, people of color—are hit hardest," Davis said. "What is our responsibility; what is the role that we can play?"
Mariah Sacoman, CFP®, weighed in that, "We can advocate in our communities, we can vote, we can mentor and support our colleagues, we can do pro bono work."
While solving the health and racial disparities faced by communities of color isn't going to happen overnight, Davis recommends the book Everyday Ubuntu, by Nompumelelo Mungi Ngomane, to start thinking about helping, especially when this is over and wealth in many communities of color will have been decimated by this crisis.
"It's an excellent book for financial planners to read because it really does help break down the divisions that we have created by wealth and lack thereof and all of the other barriers we've created," Davis said. "I think it's really important to bring in the conversation every time we have this conversation that there is a wealth gap between races and between women."
Bridging the Conversation of How to Move Forward from the Two Crises
Across cities and online, tension is building between people who feel we need to get back to work immediately for the sake of the economy, and people who feel we need to stay home for the sake of all our health.
"This is definitely a public health crisis, yet it is also an economic crisis," said Kyra Morris, CFP®. She noted Charleston, South Carolina, where she lives, is a huge tourist area that's been hit extremely hard. Local business leaders are pushing for everybody to go back to work.
"As planners, I think we have a good voice because our jobs, and a lot of what we've done for years and years, bridges the gap of the human capital and the financial capital," Morris said. "And right now that's our struggle hitting us right in the face—the human capital and the economic capital. So how can we help bridge the conversation of how to move forward?"
Developing Policies for the New Reality
Many of us still aren't back to the office, but Rick Kahler, MSFP, CFP®, CFT-I™, CCIM, has already developed policies for when employees and clients do come back.
"Until we reach a herd immunity, we discover an existing drug that's really effective … or there's an effective vaccine, how are we going to be together physically?" Kahler posed.
His policies are:
Use CDC guidelines
Discourage using others' phones, desks, office, etc.
Disinfect communal office equipment after use
Provide disinfectants, gloves and masks
Wear masks within six feet of another person
Ask clients to wear a mask for in-person meetings (provide them once they become available, but ask that they bring their own until then)
Offer fully functional, approved home office
Work from home when you or a family member is sick
Return to work only after testing or going 72 hours without symptoms
If traveling to an area that's a Level 3 Travel Health Notice, quarantine for 10 days before coming back to the office
"All of this is fluid, but this is what I need today to feel safe being in an at-risk age category," Kahler said. "We'll change as the data changes."
Implementing policies to protect both clients and employees is key, because Kahler said going back to offices is going to bring on lawsuits.
"The next thing will be to sue companies for not protecting consumers from [COVID-19], and for employees to sue employers for not protecting them," Kahler said. "This started off as the kind thing to do, but I think it's going to become a legal necessity."
Coming Up:
Thursday, May 21, 4 p.m., EST: Running a Resilient and Sustainable Business: Preparing and Responding to Crisis and Uncertainty. Register Here
Thursday, June 4, 4 p.m., EST: Reflections on COVID-19: The Markets, Our Profession, Our Practice, Our Clients and Our Lives. Register Here