FPA of Puget Sound Members & Pro Bono Opportunities
The FPA Pro Bono Program connects passionate financial planning practitioners to individuals, families, and communities in need. Are you interested in providing pro bono services? Our association is striving to connect interested FPA members with organizations in need of assistance.

FPA Members: Please take a quick 2 question pro bono survey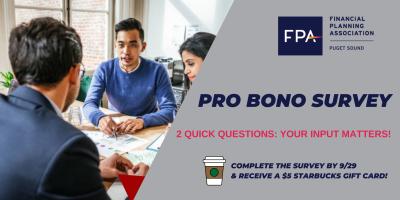 We're shaking things up a bit. We want to hear from you to help guide the causes we focus on as a chapter. By filling out this quick 2 question survey, you can help us align our pro bono projects with the causes you care about. Your voice in this matters a lot to us. If you have any questions, do not hesitate to contact info@fpapugetsound.org. Each person who completes the survey by September 29th will receive a $5 Starbucks gift card! Thank you for being an active part of our community!
Dave Mantell - FPA Pro Bono & Financial Literacy Chair
_____________________________________________________________
The Benefits of Providing Pro Bono Services:
By opening up your company for pro bono services you help individuals and families who are striving to build assets and improve their lives. By sharing our professional expertise you are strengthening ties with your community while also:
Giving vulnerable members of our communities a helping hand
Gaining more professional experience 
Strengthening your company's visibility
Having the chance to report hours to the CFP® Board
Becoming a leader and inspiration for others in the industry
_____________________________________________________________
How to participate as a FPA Member:
Complete the following form and select the "available for Pro Bono work" checkbox to be added to the FPA Puget Sound Pro Bono Directory.
If you are interested in a list of current pro bono opportunities, you can view the information below or you can reach out to our PR & Marketing Director, Brad Anderson, CFP® and he would be happy to connect you with some of our active opportunities.