According to Justin Castelli, CFP®, founder and owner of RLS Wealth Management, blogger, and podcast host, content plays a huge part in crafting your story and developing your personal brand. It can do so much for growing your business.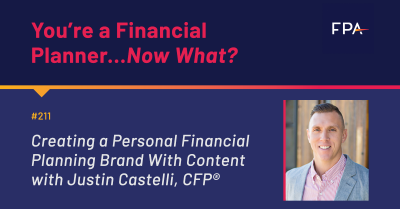 What does content have to do with being a financial planner? How can it help a new financial planner make their mark on the profession? According to Justin Castelli, CFP®, founder and owner of RLS Wealth Management, blogger, and podcast host, content plays a huge part in crafting your story and developing your personal brand. It can do so much for growing your business. That's what we talk about in our latest episode of YAFPNW.
What content can do for your business
How did Justin start developing his personal brand and creating content? He first began working at an insurance company, then a bank, gaining his CFP® designation and building a book of business. Along the way, Justin realized that he wanted to have his own blog. He learned about social media and content marketing, and realized that vocalizing his beliefs about financial planning was important. And the best way he could share those beliefs with potential clients was through content.
Creating content like a blog or podcast is great for SEO and all, and it can reel in new clients for your business. However, it won't replace the actual work that you'll do. As Justin said, "content does not replace doing good work for your clients...If the client experience or your planning is not very good, you're not going to be successful. This is one part of an overall strategy for putting yourself out there."
Content is also a part of creating your personal brand, a term that Justin wants to replace because "it's over used and people mock it now." Instead, we can think of a "personal brand" as simply your reputation. It's who you are, how you help clients, what services you offer. Developing your brand by creating content means telling people about who you are, over and over and over.
Choose one "thing" first… and be authentic
Building your personal brand in those terms sounds easy...in theory. If you're a new advisor wanting to start creating content, Justin suggests focusing your efforts on one thing and getting good at it. Start a blog and publish posts consistently. Start a podcast. Film YouTube videos. 
"Do one, get good at it, find your voice," said Justin. "Find the opportunity to turn that into something else, and then add another piece to the puzzle."
How do you "get good" at whatever you choose initially? Being authentic is key. People can tell if you're sharing on social media with an ulterior motive, or if you're just posting fluff pieces to make your online presence known. When you're being yourself and being authentic people can tell. That's how you'll find your audience. From a practical business standpoint, that's also how you can bond with new clients. 
"If you really like basketball like I do, and somebody comes in and they're a basketball fan as well, we already connect," Justin explained. "We already have a bond that we can build upon, rather than trying to find that common denominator between the two of us."
Be consistent and purposeful
Once you've gotten used to being yourself and being genuine, how do you create content consistently? Does that mean sticking to a schedule for publishing blogs, or consistently talking about the same topics? It's a bit of both, Justin said. Furthermore, your messaging about what you do with your clients must be consistent with the actual client experience in real life.
"You're telling people the same thing over and over, just in different ways, to put yourself out there for your branding," said Justin. "And then the consistency between what they're reading and who they think they're going to get needs to be the same as what they get when they come in."
Remember: you're not going to get everything perfect right out of the gate. Striving to create the perfect piece of content every time is not the way to do it. In addition to being authentic and being consistent, Justin suggests focusing on adding value. How can you add value to a conversation on social media? How can you add value to a professional relationship with a more experienced financial planner, or your firm, or your clients? Thinking about how to add value was a large factor in Justin's career.
"I just think about where my career has gone, the connections that I've made and the friendships, relationships that I have," said Justin. "And it all started with just bringing value, whether it's comments, whether it's sharing and helping other people's story be told."
Justin had a lot of great advice to share on brainstorming content, layering personality into your content, networking, and so much more. Tune in to the full episode to hear it all! 
What You'll Learn
What planners should focus on (instead of nitpicking others)
Justin's start at an insurance company
The importance of creating content
How Justin started and grew his blog
Figuring out what you want to write
Layering personality and personal brand into content
Consistent messaging is key
Justin's advice for brainstorming content (that works for you)
Referral agreements and collaboration
Networking through Twitter
Adding value as a new planner
Show Notes
In this episode of YAFPNW, Matt Fizell, CFP®, and Justin Castelli, CFP®, discuss:

Want to keep up with Justin on social media? Follow him on LinkedIn, Facebook, and on Twitter at @just10castelli.