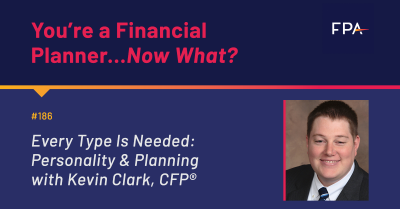 Kevin Clark, CFP® is the Central Ohio NexGen Director of FPA, and currently works for Ameriprise as a Certified Financial Planner™. In his work at Ameriprise, his areas of specialty include planning for entrepreneurs and small business owners, recent college graduates, newlywed couples, near or newly retired persons, educators, and public employees. And while he has a somewhat traditional role within the profession now, his start was anything but. 
Falling backwards into the profession
When I sat down with Kevin at the FPA Annual Conference, I was lucky enough to hear more about his "unique beginning" in the financial planning profession.
He shares, "I fell backwards into it in college. I came from a family that has a very long history in it. My dad did it for 38 years. My grandfather did it for 30 years. My uncle did it for almost 30 years himself." Now, although he was well-versed in the profession growing up, he had almost zero interest in pursuing financial planning as a profession for himself.
After declaring a broad business major in college, he was required to take Finance 101. It just so happened that his Finance class started a mere three or so days after the Lehman Brothers went out of business; an intriguing and difficult era in the financial planning world, to say the least!
This was both fascinating and thought-provoking for Kevin, who said it was one of the first issues to pique his interest into the field of financial planning. He was exposed to real-world situations and this led him to find out that he actually had a knack for a lot of the skills that play into the profession.
Seeing the financial crisis and being at the start of a potential career involving finance, Kevin was able to really appreciate the emotional side of the profession — and how it was just as important, if not more so, than the technical part of the profession.
Underdeveloped skill sets can be acquired at call centers
When Kevin graduated from his finance and management program at Ohio Northern, it was still a time of crisis for many companies — and many still weren't hiring.  As a result, his original idea to work in a traditional firm took a turn and he landed his first job in the finance field working at Fidelity's call center in Covington, Kentucky. 
Kevin elaborates a bit on his experience in the call center by saying: "As you're getting licensed... it was basically just routing the calls to where they needed to be. Then once you're licensed, they have a very good training program that allows you to build on what you're able to do." 
His story reminded me of an interview we did with James Matthews, CFP®, who ended up leaving where he was to work in a call center after realizing there were certain skill sets he would be able to develop and build upon there. People viewed his career change as a setback but he viewed it as needing to fill a skill gap he was missing. I found these similar stories fascinating because it shows just how many opportunities and paths there are to be your own type of professional.
In the end, Kevin considers his work at the call center as the foundation of his career. It gave him a push to step out of his introverted comfort zone and realize he could actually make a career out of financial planning. 
The importance of having different personalities in the profession
After the call center, Kevin found his next position at a wirehouse; full-service broker-dealer. At the wirehouse, Kevin found out just how valuable it is to have different personalities in the workplace. When he joined forces with that team, he described the feeling as a "good marriage" because he was joining people who were extroverts, while he was very introverted. There was much to be learned about the ways that the firm was operating. Over time, he realized that clients appreciated the variety of people they came into contact with. Having many personality types present was a win-win for everyone. 
Kevin also made a great point: personalities attract clients. There are some financial planners who just naturally attract the retirement population with their personalities and the way they conduct their business. Others attract the millionaire next door type. People are called to others for different reasons. If everyone in the financial planning profession had the exact same personality traits, we would be missing out on a large part of the population.
This is why we need a great variety of people coming into the profession. The more personalities and types of people we have working together, the more clients will find a sense of comfort and trust within financial planners and, as a result, the profession will continue to flourish.
The FPA Retreat Conference and Working with FPA
As we were currently attending FPA Annual Conference, Kevin and I talked about conferences, and how we enjoy FPA's events especially. We have both attended the FPA Retreat in the past, so we talked about our experiences and the knowledge these conferences provided to us, as NexGen planners.
Kevin shares that the Retreat exposed him to multiple ways of doing things, opening his eyes to the different models out there. He admittedly didn't have much experience with different fee models. The Retreat made him feel more comfortable in the profession and he was amazed at some of the knowledge shared by other attendees.
He says it was a truly transformative experience and I couldn't agree more. Today, Kevin is highly involved with FPA and NexGen, as Ohio's NexGen Director. His respect and care for mentorship is clear in our chat, and I love what he has to say about how younger planners can get involved to grow in their profession.
If you're interested in hearing more about Kevin's very unique experience in the financial planning profession, as well as why he devotes so much time to working within the profession (and with NexGen planner especially), this is a great episode to check out. 
I had a wonderful time chatting with Kevin and learning more about his experience breaking into the profession. His passion for helping others is evident and I appreciated the time he spent with me.
What You'll Learn:
Kevin's entrance into the financial planning profession
Why it's OK to not know your exact path in the profession
The power of following your calling
Why Kevin thinks call centers are a great place to start (or strengthen) your financial planning career
Why having different personality types in financial planning equates to success
The power of in-person professional events
The value of FPA, NexGen, and mentorship
Show Notes:
In this episode of YAFPNW, we talked to Kevin Clark, CFP®, about:
Want to see what Kevin is up to? Stay up-to-date with Kevin on LinkedIn.