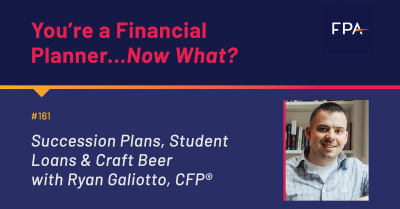 What do succession plans, student loans, and craft beer have in common? These are the threads that tie together the story of Ryan Galiotto, CFP®. From his unconventional start in financial planning to his current "title" as the Student Loan & Craft Beer Nerd of Pittsburgh, Ryan's story is a testament to the value of following your interests and being yourself.
In this episode of YAFPNW, Ryan and I talk about Ryan's career progression, how student loans became a part of his personal brand, and how his personal brand has played a huge role in his growth. They also talk about the technical side of niching and branding, including compliance, content, and even combining personal and professional interests for even greater growth.
An Unconventional Start
Ryan got his start in financial planning working at a restaurant of all places. There, he was taken under the wing of the restaurant's dishwasher, who had invested well and was able to retire in his mid-20s. This busted all of Ryan's beliefs about wealth and financial security and, from there, his interest in the profession only grew. He graduated from high school in 2002 and went to college, receiving his degree in finance from Liberty University. But like most of us in the next generation of financial planning, he graduated at the peak of the financial crisis. 
His initial intention was to work for the "big names," like Merrill Lynch and others. Of course, finding a job at any of these firms in the early 2000s was difficult to say the least. So, to keep the lights on while he job-searched, Ryan worked as a bartender in Pittsburgh. This job — believe it or not — would lead to a chance encounter with an independent financial planner. They hit it off from the start and, in a short time, Ryan became part of that planner's succession plan. 
Ensuring a Successful Succession
Since receiving his CERTIFIED FINANCIAL PLANNER® designation in 2011, Ryan has worked with Fields Financial Planning firm outside of Pittsburgh, where they support "blue collar" clients, most of whom are nearing retirement age. After about 5 years working in the Fields practice, however, Ryan took a good hard look at his succession plan and realized that many of his clients would be well into retirement by the time he stepped into an ownership role. This meant, of course, fewer clients (and money) on the books. So Ryan and the owner had a chat: How would Ryan attract new and younger clients to solidify the firm's future? The answer came as Ryan began working more and more with their current clients' families. 
Rather than focusing on asset-gathering like the firm's older clients, their children were focused on pretty much one thing: student loans. As a result, Ryan started offering student loan planning to his clients, a value-add that was covered by his advising fee. He soon realized that not many people in the profession were offering this service and, as a result, began to grow a "practice within a practice." Over the past 5 years, Ryan has focused on student loans, learning all that he can and offering insights to clients (and other planners) who need it. This organically led to his reputation as the "Student Loan Guy," and a personal brand was born.
But Ryan's story doesn't end there. Make sure to listen to this episode of YAFPNW to see how his student loan expertise has led to a larger network, a stronger client base, and a passion for creating content his audience loves. You'll even see how his love of craft beer has begun to play a role in his professional life — something that Ryan never saw coming. 
If you're part of a succession plan, want to attract more of your ideal client, and/or want to really embrace personal branding, this interview is for you.
What You'll Learn From Ryan:
The ways that personal branding lead to new clients
The importance of meeting your ideal clients and audience where they are
How to work with compliance to make sure your goals are achieved, while also staying compliant
How to connect with clients by focusing on being yourself
Why you shouldn't pursue a niche that doesn't feel like "you"
Why relationships are more important than knowledge
In this episode with Ryan Galiotto, CFP®, we reference: